It was the hottest of times, it was the wettest of times, it was the age of satisfaction, it was the age of toe-curling orgasms, it was the epoch of 'yesyesohgodyes', it was the season of
le petit morte
, it was the the season of pleasure; it was the spring of endorphins, it was the winter of 'moan', we had everything before us, we had coming before us, we were all going directly to orgasm.All apologies to Dickens, but what's a high desert dweller to do when they need sexual satisfaction STAT? Why, visit a local sex shop and procure a vibrator, natch! Two of our finest investigative reporters did just that. Scope their red-hot reportage below.
Sensuelle Point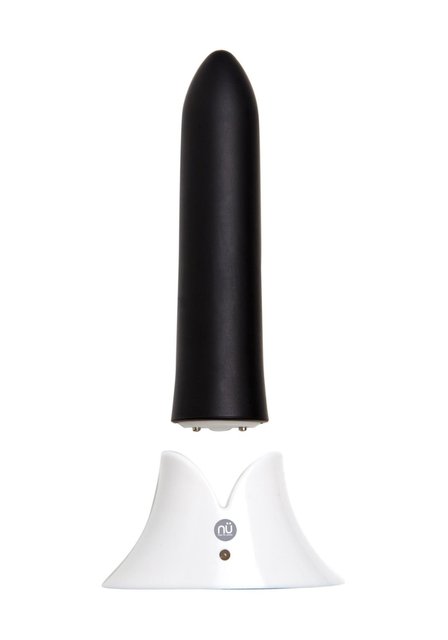 The Sensuelle Point, a rechargeable 20-function bullet by nü, was donated for review by Video Maxxx (810 Comanche NE); if you've never been, it's a clean, organized and welcoming sex shop that carries much more than merely videos. At a retail price of $59.99, this vibrator is one of the top-selling items in the shop. The staff are friendly and knowledgable. I was shown how the product works, and all of my questions were answered. They were even nice enough to give me the color I desired—black, because you can never be too metal.The Sensuelle Point incorporates a simple, sleek design, and it's double-dipped in silicon, making it both soft and smooth. It is lightweight and compact, but has enough length and girth to get the job done …
real
done. There is a simple push switch at the base that lets you run through a whopping 20 different settings. These settings incorporate a vast range of steady vibrations of varying intensities, pulses of different speeds and elaborate patterns that incorporate ascending and descending vibrations with pulses and pauses. With these complicated, lengthy sequences of stimulation, you may not know what sensations are coming next; this element of surprise is a tremendous help in reaching orgasm. I would recommend it to any woman who has had trouble attaining the big O, even if you've been disappointed with vibrators in the past. Another fabulous feature of this bullet is that it comes with a charging station and does not require batteries. In addition it can be charged with the included USB cable on your computer or in your car's cigarette lighter on those camping and business trips. This bullet is easy to turn on and off, and the position of the power button makes it unlikely to turn on by itself and embarrass you at airport security. It has a great shape for both internal and external stimulation, and for use by men as well. It comes in purple, pink, hot pink, black and silver, and it can be used with both water-based and silicon-based lubricants. Keep in mind that this bullet is not waterproof; that's only a slight limitation that should in no way deter you from trying this product. With its ability to really help an orgasm along in a major way, it's a perfect toy to have at home or while traveling and to use in any sexual encounter with a partner. It's also fantastic if you're simply making love to your lovely self.
Butterfly Kiss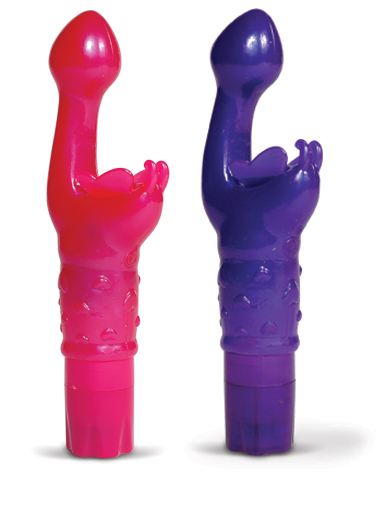 California Exotics' Butterfly Kiss vibrator was donated for review by Self Serve Sexuality Resource Center (3904 Central SE). It sells for $29.95, batteries not included. Maybe it's the glitter. Maybe it's the purple hibiscus-hued jelly material. Perhaps it's the not-quite-hard, not-quite-soft, just-perfectly-firm way to stay up way too late. Whatever it is, it's right. With the exception of its almost cartoon-like clitoral, butterfly-shaped stimulator—something I initially felt silly looking at—the Original Butterfly Kiss vibrator is surprisingly wonderful. For the price of three martinis, you can spend an afternoon in bed, either by yourself or with your partner, breathing like dancing, relaxing and of course treating yourself to as many orgasms as you'd like. The Butterfly is body safe, has three intense speeds that I found fun and satisfying in different ways. The most intense speed can be worked up to, and the most gentle speed is perfect for a little playful teasing. It's unscented, phthalate-free, and my favorite feature: It's waterproof, making your morning shower a lot more exciting. The folks at Self Serve suggest putting a condom on the toy if you plan to share with a partner, as the jelly material is porous and holds on to anything it comes in contact with. If you're feeling adventurous, the toy may also be used anally, but again should be used with a condom. And if you're on the hunt for a new lube, try the
Sliquid line
which is free of parabens and glycerin and also happens to be vegan!