Cheaper and more filling than a plane ticket.
Best Restaurant For Pretending You're In A Foreign Country
It takes more than a plate of
pommes frites
to whisk you away to the French countryside. There's a certain amount of ambience and energy needed to seal the deal, and when it comes to providing that, how should we say, je ne sais quoi, Brasserie La Provence co-owner Marc Maurin-Adam has brought it over from France along with his delicious
cassoulet du Languedoc.
(MT)
2)
Pars Cuisine
3)
Los Equipales
Best Greek
Galaktoboureko
. It's an intimidating word, but the dessert is straightforward enough: citrus-flavored custard layered with crinkly phyllo and served in a pool of syrup. There's always a big pan of it sitting on the counter next to the register at Olympia Café. Touches like
galaktoboureko
, moist potatoes and the most garlicky skordalia in town (so strong it's spicy and a full-on conversation repellant) make this place the best of many great Greek options. (MD)2)
Yanni's Mediterranean Grill
3)
Gyros Mediterranean
Honorable Mention:
Mykonos Café & Taverna
Best Italian
Chain Italian restaurants give the impression that Italian food consists entirely of pasta with Alfredo or tomato sauce. But Trombino's Bistro Italiano paints a much fuller picture with the country's food pallet. The family-run restaurant offers Italian staples like veal Parmigiana and more surprising dishes like yellowfin tuna. An extensive wine list and hefty portions pad Trombino's already impressive résumé. (SM)2)
Scalo Northern Italian Grill
3)
Vivace
Best Middle Eastern
Back to 1984, there weren't many options for Middle Eastern cuisine in Albuquerque—but Pars was there. The Persian and Mediterranean restaurant has grown with the community over the last 24 years, and now it's the largest, most upscale Middle Eastern restaurant in a city flush with itty-bitty ethnic eateries. Opulent fountains, stone archways and nightly belly dancer shows make the ambience as breathtaking as its Farsi-accented food. (LM)2)
Yasmine's Café
3)
Sahara Middle Eastern Eatery
Best French
With many little dining areas creating Brasserie La Provence, this place is cozy and sans intimidation. The prices are decent, too. Where else can you bite into juicy Bourgogne escargots for a dollar amount in the single-digit range? The wine selection is dappled with vin du pays, and a friendly staff and thoughtful menu make this a lovely place for midday or evening repose. (MD)2) Le Café Miche, RIP3)
Chez Axel
Honorable Mention:
La Crêpe Michel
,
La Quiche Parisienne Bistro
Best Vietnamese
May Café takes this prize every year , raising the bar for other pho purveyors in Albuquerque. Standing in the shadow of a giant Paul Bunyan statue, the café's been serving what have become staple Burque dishes for 16 years. Flavors are bright, dishes are ample and the chefs pay attention to detail. (MD)2)
Vietnam 2000
3)
Que Huong
Best Thai
Competition for this title is fierce. Hoards of Thai food devotees populate restaurants in Burque. But the crowned champion for 2008 is Siam Café. Drunken noodles may be a star at this house, but you can't go wrong with papaya salad or anything with plump chunks of tofu. The noodles in Siam's many noodle dishes are never overcooked, and standout curries are aromatic and perfectly smooth. (MD)2)
Orchid Thai Cuisine
3)
Thai Crystal
Honorable Mention:
Bangkok Café
,
Thai House
Best Chinese
Gourmet, not buffet: That's the ethos at Chow's Asian Bistro, which easily surpasses the MSG-laden pack. Chow's reliably takes first in this category every year, no doubt thanks to its three convenient locations (the Heights, the Westside's Cottonwood Mall and Santa Fe), ever-evolving specials and fresh ingredients. And those non-splintering chopsticks, artistically arranged into tall, functional table centerpieces. Genius. (LM)2)
Chen's Chinese Food Restaurant
3)
Chopstix
Honorable Mention:
Kai's Chinese Restaurant
Best Indian
What is it about Taj Mahal? The attentive, amiable service? The beautiful kebabs from the tandoor? The fresh and inexpensive lunch buffet? Throw in hearty naan breads and consistent specialties, and Albuquerque's multistory stalwart of Indian cuisine becomes a regular haunt every day of the week. (MD)2)
India Palace
3)
Taj Palace
Honorable Mention:
India Kitchen
,
Rasoi: An Indian Kitchen
Best Korean
Good food is all about contrasts, and contrasts are the heart and soul of Korean cuisine. Of course there's kimchi, which combines every flavor and texture on Earth into to one messily concise pile of vegetables. And then there's Korean barbecue, which the Korean BBQ House stakes its reputation on. Charred meat pulled hot from the grill and wrapped in coolly vegetative lettuce leaves is a delicious contradiction that's rustically rarefied. (LM)2)
Fu Yuang
3)
Ar-Ri-Rang Oriental Market
Best Japanese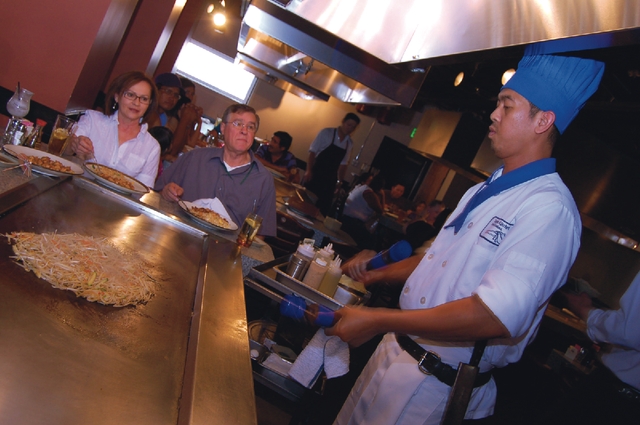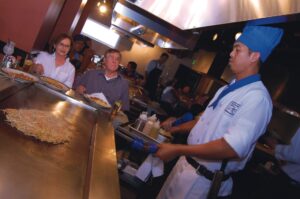 Tabatha Roybal
Chefs flipping eggshells into their hats are guaranteed to entertain everyone at your table at Japanese Kitchen. Food becomes performance art as veggies and meats are diced, rice is fried and knives are juggled around the teppan grill. An elegant sushi bar housed in a different building across the courtyard does a fine job of presenting all the required sushi staples. (MD)2)
Azuma Sushi and Teppan
3)
Pacific Rim Asian Bistro and Buddha Lounge
Best Mexican
A word, dear readers, about Mexican cuisine: It ain't New Mexican. Though some features are freely traded across the border (enchiladas, tamales, tacos, a penchant for hot and spicy), the approaches are noticeably different. The next time you're seated in front of a plate of indeterminate origin, mentally run through the following checklist: Do you see any fresh herbs like cilantro? Is less than half of the dish's surface area covered in cheese? Are the tacos steamed instead of dipped in oil or fried? If you answer mostly no, it's New Mexican. If
sí
, you're looking at Mexican food, hopefully from Los Equipales,
en primer lugar.
(LM)2)
Taqueria Mexico
3) Tie:
Bandido Hideout
,
El Norteño
Best Other National Cuisine
Any country where dental floss bikinis are considered the national uniform is A-OK by us. But lord knows how they can stuff themselves into those tiny two-pieces after eating at
churrascarias.
The distinctly South American meat orgy, available this side of the Panama Canal at Tucanos, is infamous for carving carne tableside from épée-like skewers. There are, like, a Brazilian different kinds of meat. Good luck choosing. (LM)2)
Two Fools Tavern
(British Isles)3)
Don Yasmany Cuban Restaurant and Bakery
(Cuban)