Arena Floor
10 a.m. DerRic Starlight
Calgary, Alberta, CanadaMember of the Second City Comedy Group in Toronto, Canada
10:30 a.m. Eli Secody
Phoenix, Ariz. Traditional Native American music
11:10 a.m. Injunuity
Oklahoma City, Okla.Native American rock 'n' roll and folk
8 p.m. Kodiak Alutiiq Dancers
Alutiiq, AlaskaDance and language
Stage 49
10:30 a.m. Yellow Bird Apache Dancers
Phoenix, Ariz.Native American flute and acoustic guitar, storytelling, hoop dances and love songs
11:05 a.m. Kodiak Alutiiq Dancers 11:40 a.m. DerRic Starlight12:20 p.m. Corey Allison
AlbuquerqueAcoustic and electronic reggae
12:55 p.m. Levi and the Plateros
Tohajiilee, Canoncito, N.M. Blues
1:30 p.m. Miss Indian World Public Speaking Competition
2:30 p.m. James and Ernie
Navajo NationComedy duo
3:25 p.m. IndigieFemme
Santa Fe, N.M. Drums, chants and strings duo
4:05 p.m. and 5:45 p.m. Red Power Squad
Edmonton, Alberta, CanadaHip-hop music and break dancing.
See feature.
4:55 p.m. Fat City
AlbuquerqueFunk, rhythm and blues, current pop hits, jazz, country, oldies, and rock 'n' roll
6 p.m. Injunuity6:50 p.m. Tracy Bone and JC Campbell
Manitoba, CanadaAward-winning folk-rock singer-songwriters
7:35 p.m. Pamyua
Anchorage, AlaskaA capella, didgeridoo and African djembe
8:35 p.m. The Deciders Featuring Melissa Reaves
Boone, N.C.Funk and soul
9:55 p.m. Native Roots
AlbuquerqueNative American and reggae music
11:05 p.m. RedCloud
Los Angeles, Calif.Hip-hop.
See feature.
Saturday, April 25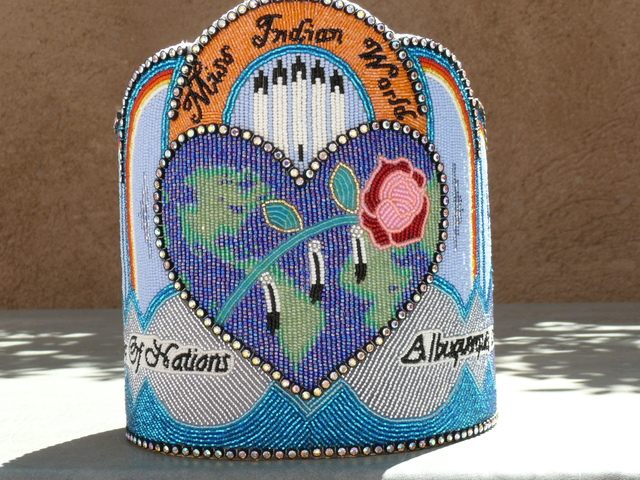 Arena Floor
10 a.m. Twin Rivers
Acoma Pueblo, N.M.English- and Tewa-language Native American folk duo
10:30 a.m. Spirit Wind Flute Ensemble
New Mexico Flute ensemble
11:10 a.m. Tracy Bone and JC Campbell
Stage 49
10 a.m. Eli Secody10:40 a.m. Michael Bucher
Cherokee, N.C.Singer-songwriter with traditional and modern instruments
11:20 a.m. Randy Granger
Las Cruces, N.M.Award-winning singer-songwriter
Noon, White Buffalo
Santa Fe, N.M.Rock 'n' roll and blues
12:40 p.m. Saving Damsels
AlbuquerqueRock 'n' roll
1:25 p.m. Shelley Morningsong
Winnipeg, Manitoba, CanadaModern pop with Native American flute and percussion
2:45 p.m. Tinsel Korey & Jason Burnstick
Vancouver, British Columbia, CanadaSoul, blues and acoustic rock 'n' roll duo
3:25 p.m. The Old Main
AlbuquerqueRock 'n' roll
4 p.m. Wab Kinew
Winnipeg, Manitoba, CanadaHip-hop artist and CBC Radio host.
See feature.
4:30 p.m. Red Power Squad4:40 p.m. Quese IMC
Oklahoma and CaliforniaSkidi Pawnee and Seminole hip-hop artist.
See feature.
5:25 p.m. Native Roots6:15 p.m. Anthony Adams and the Arctic Express Band
Eagle River, AlaskaBluegrass and country
7 p.m. Ethnic De Generation
Kayenta, Ariz.Heavy metal
7 p.m. Miss Indian World Crowning
Hattie Kauffman, national news correspondent for CBS News, will co-host the Miss Indian World pageant.
7:45 p.m. Leanne Goose
Northwest Territory, CanadaSinger-songwriter
8:40 p.m. Gary Farmer & The Troublemakers
Santa Fe, N.M.Four-piece harmonica blues band
9:35 p.m. James and Ernie10:35 p.m. Casper & The Mighty 602 Band
Phoenix, Ariz.Hopi reggae artist