Best Appetizers
Best Wings
If you ever forget that humans are just another animal, watch them devolve into savagery as they devour a plate of wings. According to our readers, there's no better place to finger-lick and lip-smack on these succulent, fiery dainties than O'Niell's. Just remember to use a napkin afterwards. It separates us from the beasts.
2) Gecko's Bar and Tapas3) Chen's Chinese Food Restaurant
Best Burger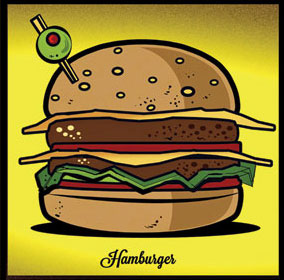 We swear that you'll reach a higher spiritual plane when you sink your teeth into Holy Cow's thick, sacred patties. The New Mexico-raised grass-fed beef helps make these burgers divine.
2) Blake's Lotaburger3) Lumpy's Burgers
Best French Fries
It only makes sense that after praising the Holy burger, you give thanks for the hallowed fries. In addition to offering thick, salty, hand-cut spuds, Holy Cow also serves up sweet potato fries with cucumber Greek yogurt and parmesan zucchini fries with buttermilk ranch. In other words, all denominations are welcome.
2) Blake's Lotaburger3) Lumpy's Burgers
Best Pizza
In high school, it was the best way to spend $1.85. Today, it still is. Dion's proves why it's an Albuquerque institution every time you order a hot-and-steaming slice.
2) Giovanni's 3) Farina Pizzeria and Wine Bar
Best Pasta (Western)
Mario's may be best known for its pizza, but it's the pasta that grabbed your attention this year. Find all the classics, from baked lasagna to tortellini.
2) Scalo Northern Italian Grill3) Trombino's Bistro Italiano
Best Noodles (Asian)
Vermicelli, rice, egg and udon rule StreetFood Asia's menu. They're souped, stirred, fried, curried and steamed—and soon, they'll be down your gullet.
2) Asian Noodle Bar3) Fan Tang
Best Falafel
Best Gyros
Best Tacos
It may not look like much from the outside, but
Alibi
readers agree that nobody satisfies a craving for tacos—from carne asada to lengua—quite like Taquería Mexico.
2) Taco Sal3) Sadie's
Best Quiche
Could it be our repressed nostalgia for country-style kitchens? Or is it simply that when it comes to scratching our savory-custard-baked-in-a-pie-shell itch, Annie's Soup Kitchen is always on the money? If we're honest with ourselves, it's both.
2) La Quiche Parisienne Bistro3) P'tit Louis Bistro
Best Mac And Cheese
This mac and cheese has gone through various incarnations over the years, but somehow the local restaurant chain has maintained one quality in the dish: It's freaking tasty. Order it with some steamed broccoli if you want to get fancy.
2) The Standard Diner3) Nob Hill Bar and Grill
Best Barbecue
The Texans beat the New Mexicans on this one. Pull up a picnic table and pour some Sissy Sauce on that jalapeño sausage link. No vegetarians here.
2) Mr. Powdrell's Barbeque House3) The Quarters
Best Steakhouse
When a melt-in-your-mouth filet mignon is hidden behind a secret door in the back corner of a shopping plaza in Los Ranchos, you know it's something special. Vernon's runs a few simoleons more than the average restaurant, but then again, this food ain't average.
2) Marcello's Chop House3) Ranchers Club
Best Seafood
Years ago, the Pelican's on Montgomery burnt down, aquariums and all. We're glad they rebuilt the place, because there's no better spot in Albuquerque to gorge on shrimp and crab legs. Try the Australian lobster tail with lemon and drawn butter, mate.
2) Desert Fish3) Los Equipales
Best Salad
This homegrown biz uses New Mexico-made ingredients to top its greens, such as humanely farmed chicken breasts and grass-fed beef. No meat for you? You'll be happy scarfing up the bleu cheese, toasted almonds or fresh strawberries.
2) Dion's Pizza3) Farina Pizzeria and Wine Bar
Best Sandwiches
When meal-time rolls around and you find yourself with a hobbit-sized appetite, only Baggin's will do. Try a hoagie for elevenses, a grinder for luncheon and a club for tea. Bilbo would be proud.
2) Relish Sandwich Shop3) Al's Big Dipper
Best Pho
Pho is poetry in a bowl. Phoetry, we call it. Steam, clarity, freshness, sweet ribbons of meat—you can lose and find yourself in a bowl of pho. For a truly fragrant experience, you'll want to partake at Café Trang, the frontrunner in a city blessed with good Vietnamese.
2) Saigon Restaurant3) Viet Taste
Best Caldo
When you want a spicy, chunky Mexican soup, our readers say there's no better place to get it than Los Compadres. Just like
su abuela
used to make.
2) Bandido Hideout3) Cesar's Mexican & Greek
Best Soup
Whether you're cold, feeling glum or just need something to warm the cockles of your heart, Baggin's soup de jour is liquid bliss. From red chile chicken posole to avgolemono, these soups will pull your sorry ass together, and they come with a fresh-baked cookie to boot.
2) Al's Big Dipper3) Annie's Soup Kitchen
Best Spring Rolls
Maybe it's the poignancy of Café Trang's beautiful rice paper packages of shrimp and vermicelli with peanut sauce and mint on the side that earned your votes. So delicate and fleeting, maybe they remind you of life itself. Or maybe they're just damn good.
2) Que Huong3) Salathai
Best Sushi
Last year, you voted for the sushi-carrying boats at Shogun; this year the prize goes to Sumo Sushi's ginger-laden miniature train. Of course, it's not all about the toys. The excellent sushi, especially Sumo's original rolls, might have something to do with it.
2) Azuma Sushi & Teppan3) Sushi Hana
Best Tempura
Sweet potatoes, zucchini, bell peppers. Tokyo Kitchen knows how to serve them: lightly battered and fried. It may only have been open since March, but our readers have taken note of the excellent tempura and rewarded the newcomer for it.
2) Sushiya Asian Fusion Cuisine3) Sushi King
Best Indian Curry
The word "curry" just means an Asian dish or sauce that features complex spices and, usually, a zing of hot peppers. To experience the many varied kinds of curries available in Indian cuisine, readers agree that a trip to Taj Mahal is in order.
2) India Palace Cuisine of India3) Rasoi: An Indian Kitchen
Best Thai Curry
Do you like it red? Do you like it green? Do you want it with chicken? Or tilapia? How about coconut milk? Cool and mild? Or so hot that your lips blister? Whatever you're looking for in a Thai curry, Jasmine has you covered.
2) Thai Tip3) Siam Café
Best Grilled Cheese
Sure, an 8-year-old can make one, but would he toast the sourdough to a golden crisp? Would the cheddar cheese be perfectly apportioned and gorgeously melted? Would he wash his hands first? Would he drop it on the floor? Yeah, sorry, Timmy. That's why we go to Flying Star.
2) Baggin's Gourmet Sandwiches 3)
O'Niell's Irish Pub