Everything can change in one instant. RedCloud remembers well the moment that forever altered his life and set it skittering off on its present trajectory. He was in the sixth grade in Hawthorne, a predominantly black and Mexican-American community in South Los Angeles. (He's still proud to live there, now with his wife and 2-month-old son.) Sensing a fight, he joined a herd of kids as they broke into a run toward a patch of playground where two older black students were facing off. In Hawthorne, RedCloud says, kids learned to fight at a young age. Since the violence of gang life and abusive homes touched everyone sooner or later, toughness was a subject of study.RedCloud (then Charles Escalanti) pushed his way into the circle of spectators. He could see the two fighters narrowing their eyes, squaring their shoulders. And then the paradigm shifted. "Somebody gimme a beat!" one of them called out.
Boom-chick, de-boom-boom-chick.
The fighters bobbed from side to side, and the first punch came sailing through the air—a couplet about how wack the other MC's hair was. The crowd erupted in laughter and mock pain, a wave of
Ohhhhhh!
shattering the tension. The pugilists exchanged barbs about each other's mothers, the wackness of their styles, the relative inferiority of the other MC's word choice. In this fight, the winner wasn't determined by blood and bruises, but by creativity and mental dexterity. RedCloud was witnessing his first rap battle. "Hip-hop isn't my first language," RedCloud admits, rattling off a list of classic rock icons who've equipped him with his musical vocabulary. But in the space of that small moment, the world that little Cloud saw before him turned on its head, from negative to positive. RedCloud fell hard for those rap battles and hip-hop's love affair with language. He started reading poetry—Robert Frost and the other greats—and threw himself into English class. He worked on observation and improvisation exercises while walking to school, spitting off-the-cuff rhymes about the people and things he passed. By the time he was an eighth-grader, he had battled his way to the top of the MCs in his middle school.That discipline serves him well today. At the age of 30, RedCloud performs an average of 165 shows each year. He was able to become a full-time musician in 2001, and he hasn't had to work a day job to support his family since. He'll release his third full-length album a day before his Gathering of Nations appearance. It's called
Hawthorne's Most Wanted
, and the title and album cover—a shot of RedCloud looking hard—belie what you'll hear. "Sweet hardcore hip-hop, nothing 'bubble gum' about it," RedCloud says. Even though he describes himself as a "conscious" MC, he still rolls hard. "I'm a baller in many aspects of my life, just not in the material realm. … Although," he adds, slyly, "it's been said that my heart is diamond-studded, my lungs are gold-plated and that my tongue is made of turquoise and silver."The helicopters—"ghetto birds"—and palm trees you see behind him aren't just a background for an album cover. "It's the background to our everyday life in Los Angeles."Likewise, the music on the disc is all West Coast in flavor. "Back when gangster rap albums had scratching on it, turntablism, parables, stories and true-to-life lessons," he says. Some lessons are history-based. One track is about the Battle of Little Bighorn.RedCloud's ancestry is hard to pin down, but he identifies most with the Quechan/Fort Yuma First Nation. He's named after Red Cloud, the undefeated war chief of the Oglala. "With blessings from Oliver Red Cloud, the current Chief of the Lakota Sioux," he says. His personal definition of the name goes like this: "The sun is the best visual for Creator Father; it brings life to the world, without it darkness and cold—death is imminent. If you catch the sunrise in the morning, there's always red clouds around it, almost greeting it. If you catch the sunset at night, you'll usually see red clouds around it," he says. "Sunrise and sunset, I want to be close to the Creator … like a RedCloud
."—Laura Marrich
Red Power Squad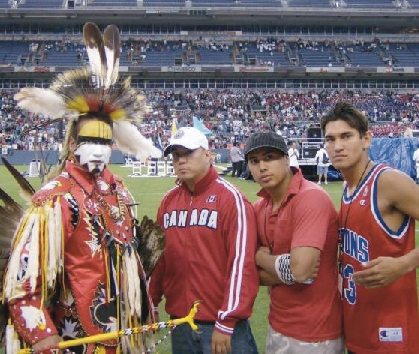 B-boy James Jones wants people to know that you don't have to be hammered out of your mind to grip the mic. "When you watch rap videos, all you see is people drinking and snorting coke and gangsters and violence," he says. That's not a message Red Power Squad endorses. "We just promote another side of hip-hop that doesn't get seen on TV, which is the positive side." Red Power Squad is all about eating right and living a healthy lifestyle, drug- and alcohol-free. You can do all that, says Jones, and still be involved in hip-hop.The squad is known for incorporating powwow elements and traditional dance into its show. But Jones is quick to point out that the crew's international acclaim isn't based only on its Native heritage. "We're pretty recognized in the hip-hop world as well," he says. "We practice really hard, and we try to be the best at it. We don't say, Oh, because we're Native, we don't need to be that fresh."Jones auditioned for Red Power Squad in 1998 when he was 12 years old. "We had no clue, actually, that things were going to pan out like this, that everything was going to go this way for us," he says. "Before, it was just kind of a pastime." Jones has had the chance to meet his heroes, like DJ Kool Herc (one of hip-hop's originators). Jones also danced for KRS-One in Toronto last year. "He's like my favorite MC," he says. The b-boy also became a top-50 finalist for "So You Think You Can Dance." Only the top 20 are selected to appear on the reality TV competition.He says he didn't really have a plan when auditioning for the show. "I didn't have music. I didn't have anything," he laughs. "The day before, I'd decided I was going to go." Because he got so close, Jones plans to audition again next time.Jones and Red Power Squad still find time to do workshops for communities around the States and in Canada, giving kids the opportunity to learn the elements of hip-hop. Really, he says, the crew wants to inspire people to pursue their talents, hip-hop-based or otherwise. Hip-hop is a culture on its own, Jones says, but there are some parallels to be drawn between it and Native American traditions. "Our DJ is like the drummers at a powwow. Our MC is like the storytellers from our culture," he says. "Our b-boying could be compared to Native powwow dancing. Our graffiti artists could be compared to the artists in our culture." In teaching hip-hop, Red Power Squad makes sure to tie the cultures together. "We try to focus on our culture as well," Jones says, "and really being able to do hip-hop but not forget where you come from as a traditional Native person."
—Marisa Demarco
Quese Imc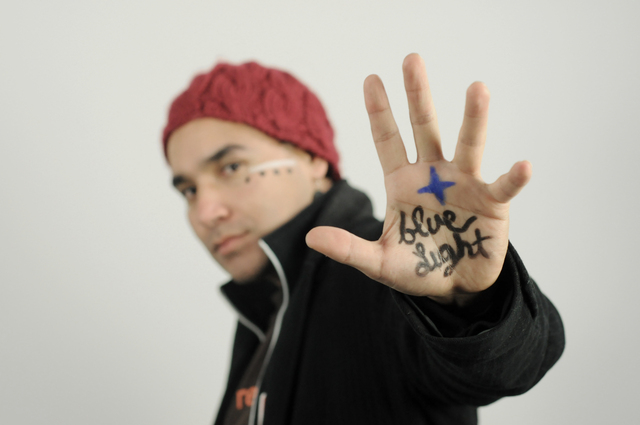 "Whenever a young Native kid who never really smiles says that music helped them in their life, made them believe, to me that's sacred," Quese Imc says. "Because they didn't grow up around smiles or congratulations or 'You did good.' They grew up around alcohol, drugs, suicide, beatings, molestation. If my music can be that difference in their life, that's what makes me continue to do what I do, in a nutshell."What Quese Imc does, in a nutshell, is a lot. He moved from Oklahoma to Boyle Heights in East Los Angeles five years ago, and he's wasted no time idling in the City of Angels.Quese co-owns "an underground hip-hop cultural bookstore" in Echo Park. It's called
Nahui Ohlin
, and the name means "Four Movement" in Nahuatl, a contribution of his Salvadoran "bro" and business partner. "We build on a whole consciousness, because he's Salvadoran and Mayan and I come from the North," Quese says. "We're examples of that
Eagle and Condor
connection."Quese raises money (more than $200,000 so far) by being the face and voice of a campaign for the
Native American Rights Fund,
a 39-year-old nonprofit law firm that represents Native American issues. He's a ground-floor member of the cultural empowerment group
NVision
, and he rigorously tours North America on his own Native American youth workshop circuits.Of course, Quese Imc's primary vehicle for cultural empowerment is music. His most recent release,
Bluelight,
is his fifth album. He has his own studio, and he logs serious hours in it—in addition to underground hip-hop, Quese records and produces pow wow music, as well as traditional American Indian drum and flute musicians. So what do the old-timers think of his hip-hop trip? "Ah, they love it," Quese says. "We're all spiritual, we all practice our ceremonies, but they know there's a new generation, and it's us and not somebody else"—non-Natives—"doing it. It's like were all working together."At the Gathering of Nations shows, Quese Imc will perform with his crew, Culture Shock Camp, featuring Bunky EchoHawk, Adrian Spotted Horsechief and Sonny Boy Fields. Bunky EchoHawk's forte is something called "live painting." "It's dope because it's the same as having a DJ," Quese explains. "That DJ gives it that feel of hip-hop … but you look over there and you've got live painting; you've got art where you're just feeling the music, just painting off the top of your head."The combination of live painting and hip-hop is intense, Quese says. "Every time he paints he brings that energy and I bring my energy, and we're the same tribe"—Skidi Pawnee and Seminole—"so that spirit of our people comes out."Hip-hop may seem removed from Native American tradition and sacred ceremonies, but Quese says that hip-hop is his way of honoring his ancestors and helping his people heal."We're just rebuilding. Whether that be through youth work, activism, cultural awareness, practice at our ceremonies; whether it be through art, hip-hop, being a doctor, being a teacher—whatever we do as Indian people will be guided by our ancestors. … Because we can only look back at what happened to us in the past 500 years and learn from it. We can't go back and live in that stuff … we have to move on. We have to dry off and we have to put on new clothes so we can heal and look forward to the next 500."
—Laura Marrich
Wab Kinew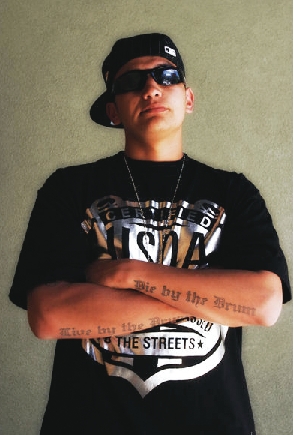 He's on his way to a jujitsu class when we speak, gearing up for his first tournament. A self-described "fight nerd," UFC fan, rapper and radio show host Wab Kinew of Manitoba has only been training for a few months. "I just want to go in and get the experience," he says of his coming fight. "I know where my skill level is at." Kinew could write his own fight song. He estimates a third of his musical material is "smack-talking, random bullshit and cockiness." The other two-thirds? Women and the Native situation in North America. "I grew up around politically active leaders, people in the American Indian movement," he says. "At least where I'm at, the way Natives are treated is bullshit. I speak out on those things, but I try and do it in a clever way, so it's not just anger and stupidity."Winnipeg, the capital of Manitoba, is unlike anywhere in the United States, Kinew says. "You know how American inner cities have a big Latino or black population?" he asks. "Up here, we have that amount of Natives in our cities." And hip-hop is the dominant music and cultural force, he adds.Kinew works at the
Canadian Broadcasting Corporation
, "like NPR in the States," he says. He broadcasts concerts for a show called "Canada Live," and hosts another called "The 204" that promotes the local scene. He grew up exposed to a wide variety of music, attending powwows and listening to his parents' rock, country and folk albums. "When I was 13 or 12 or around that age, a bunch of really good rap came out," he says. "I remember one song in particular,
'Passing Me By' by The Pharcyde
. I heard it, and I just tripped out."Kinew's drawn to socially conscious MCs who have something intelligent to say. "Good rappers are good rappers," he says. "But to me, the best rappers combine skill with a message."In May of last year, Kinew traveled to Sioux Falls, S.D., to meet Barack Obama while he was campaigning. "It changed my life," he says. Before he met President Obama, he was sure there was no way a person from a nonwhite background would be able to reach such heights of power. "I thought, White people will never go for it. No way."When Canada's federal election rolled around, Kinew was inspired to participate in the political process by informing fans of his music about their choices for candidates. "I'm educated," he says. "I participate in the mainstream society. I have a good-paying job and put my schooling to work. The way I want to live my life is I want to be fully engaged in everything that's going on around me."His bio says Kinew walks the line between traditional and modern, and the intersection of the two birthed a title for his debut full-length disc. "My album is called
Live by the Drum
because to me, the two big influences in my life have been traditional Native culture and hip-hop culture," he says. "The drum is important to both of them." His music showcases that confluence, and his set at Gathering of Nations will include rap and traditional singing. In his day-to-day life, he adds, he tries to govern himself by the morals and ethics he learned growing up around traditional people. "Even though I'm living in a city that's a little rough around the edges, I still try and balance those things."
—Marisa Demarco