There's nothing quite like sipping on a local beer while watching the sunset or snacking on grub from food trucks, and having the right patio is key. Luckily Albuquerque has a plethora of quality breweries and pretty patios to match. Here are just a few favorites.
Patio And Happy Hour Guide Bow & Arrow Brewing Co.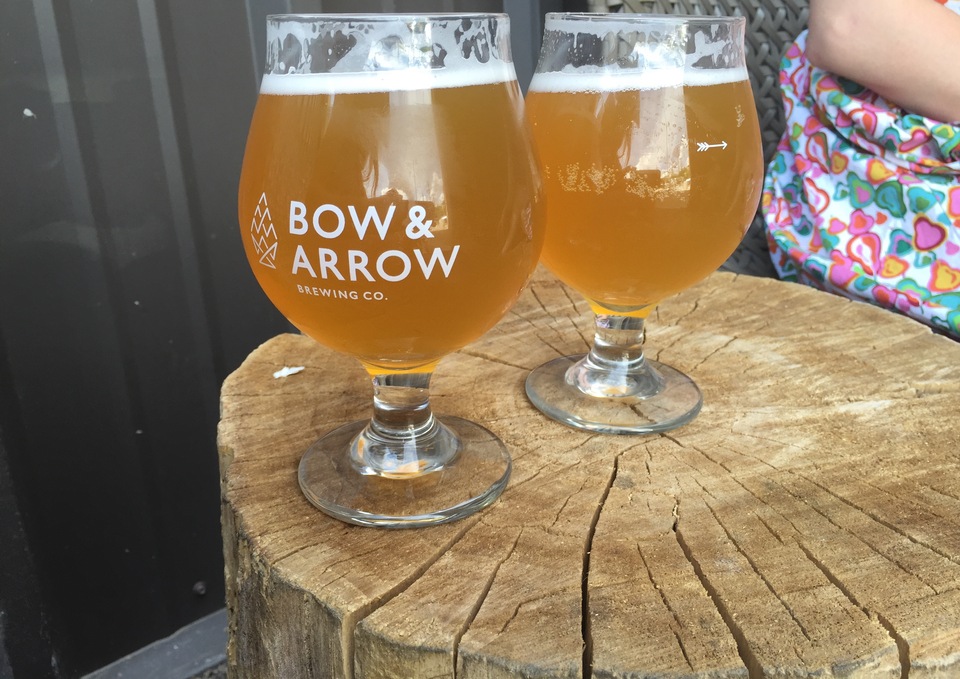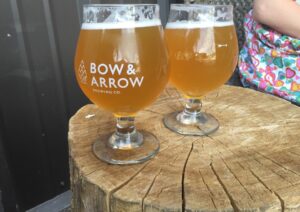 M Schmitt
Located on the corner of McKnight and Sixth Street, this trendy, modern brew house is the epitome of hip. Inside are impressively high ceilings and rows of long tables and chairs. A cozy living room-esque area with plushy furniture is tucked into the back of the room and industrial, minimalistic décor offers both rustic and modern touches. I recommend sitting inside during the heat of the day but after the sun goes down, check out the patio instead, a charming space illuminated by strings of light. To the side of the patio is a corridor with wicker couches and tree stump tables for guests who want a little more privacy while still sitting outside. Craft beer options range from the rich and earthy Flint & Grit ale to the chocolaty Rustic Oak porter. Each beer has a unique flavor with striking yet subtle undertones and the friendly bartenders are happy to give samples of each irresistible flavor. My personal favorite is the cloudy and sophisticated Wayward Arrow hefeweizen—during my visit I was lucky enough to try this in a nitro brew, which made the light ale even lighter, like drinking liquid silk.
Patio And Happy Hour Guide Marble Brewery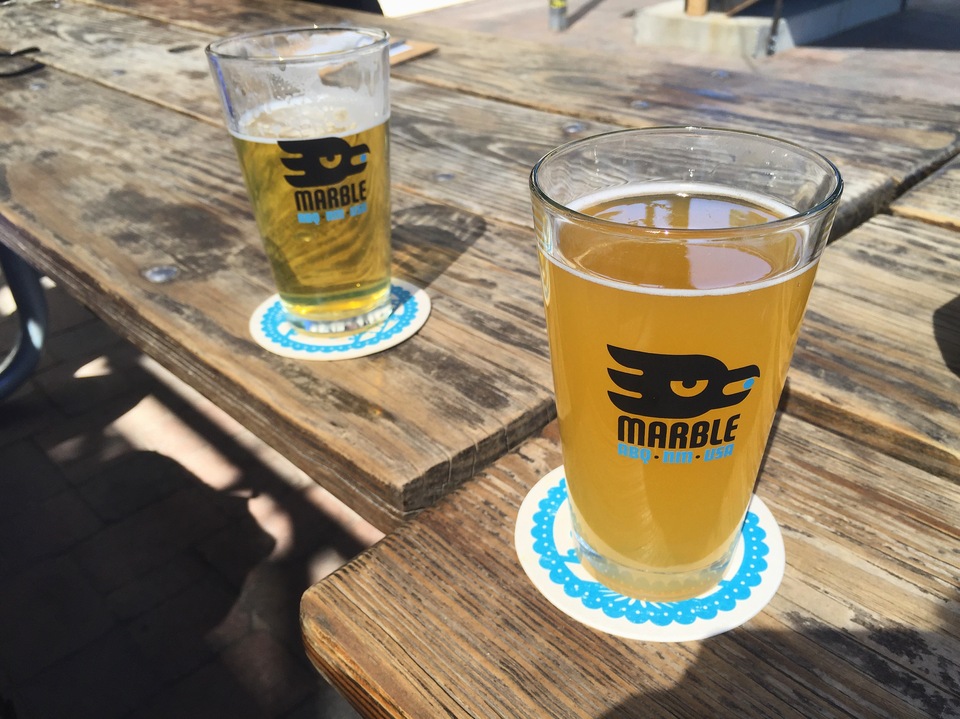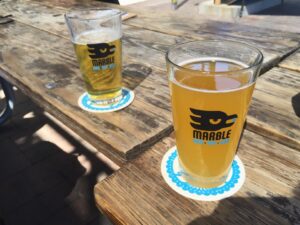 M Schmitt
This is my go-to place for beer and atmosphere. Marble doesn't just have the perfectly brewed, smooth Double White (now sold in cans!), they also have a spacious, modern interior and an outdoor patio with wooden benches that are great for large groups or just a friend or two. Dogs are allowed, there's a stage for local bands in front of a brightly painted mural, and the food trucks never fail to impress. My Sweet Basil and A-dough-be are just two of the mouth-watering food trucks that are regularly available at this brewery. I'll let you in on a secret: If the trucks aren't set up yet and you're impossibly hungry, ask your bartender for a plate of carne adovada nachos. They aren't advertised on the menu but they sure do exist, and once you know about them you won't be able to pass them up. Marble takes the craft of brewing seriously and you can taste it in each beer. While seasonal beers are fun and interesting, the classic brews at Marble like the pilsner and red ale never lose their appeal. Another fun perk to this place is the hula hoop stash that lives on the corner of the stage, tempting tipsy minds to show off their skills. Eventually, like the nachos, they're irresistible.
Patio And Happy Hour Guide Bosque Brewing
Bosque Brewing always has a unique brew on tap or a must-try seasonal. Year-round, this microbrewery offers something called Elephants on Parade, which serves as a beer for people who don't like beer. Want something bubbly without hops and—oh yeah, pink? Try it. More traditional brews include the Driftwood oatmeal stout and Riverwalker IPA. Bosque's patio is wonderful on multiple levels. Conveniently located near UNM and busy Nob Hill, it's great for people watching. There are benches in the shade and the sun, and heat lamps for chilly nights. And the added bonus: Dogs are allowed. Come here for Happy Hour 3-6pm on Mon-Thurs and get $1 off pints.
Patio And Happy Hour Guide Santa Fe Brewing Co.
There's a lot of hype surrounding Green Jeans these days, but with good reason. If you haven't visited the relatively new cluster of fun eateries, consider it a must. Designed with repurposed shipping containers and bicycle parts, Green Jeans is a colorful and all around pleasant place to be. Santa Fe Brewing occupies the northwest corner of the plaza with patios both downstairs and upstairs. The downstairs patio has plenty of wooden picnic tables where you can sit down with your beer and snack on some grub from one of the many food joints nearby. The glorious upstairs patio is usually full, in my experience. After walking up a flight of stairs and admiring an entire wall covered with yellow Santa Fe Brewing bottle caps, you're greeted with a cozy seating area with a shuffleboard table and barstools facing the outside courtyard. Push open the glass door and you're on the upstairs patio deck, with strings of lights for nighttime and canopies for a little dappled shade in the afternoon. It's the perfect place to sip on an Imperial java stout or State Pen porter.