North America's largest powwow is packed with Native foods, traditional dancing and music, and 800 artists and traders. This year's Stage 49 features music and entertainers from across North America (See
"Gathering of Nations Entertainment Schedule"
).
Traditional Native American dances, art demonstrations and presentations celebrate Native American culture with an emphasis on New Mexico's Pueblo Indians.
Coyote Is Part Of Our Flathead Salish Creation Story
A painting and drawing exhibit exploring the nature of Coyote, featuring works by Jaune Quick-to-See Smith and Neil Ambrose-Smith.
Native Now Art Show
The show includes some of the country's most innovative Native artists, who are redefining the boundaries of contemporary art. Participants include Ryan Singer, Micah Wesley, David Sloan, Alex Jacobs, Dallin Maybee, Michael Roanhorse, Shawn Bluejacket, Veronica Poblano, Dylan Poblano, Carol Emarthle-Douglas, Dennis Esquivel, Robert "Spooner" Marcus and Alan Lasiloo.
Injunuity: Native American Art Show
The show features art, fashion and photography from Southwest-based Native American artists. The Thursday night kickoff includes a fashion show, a DJ and live music.
North American Indigenous Image Awards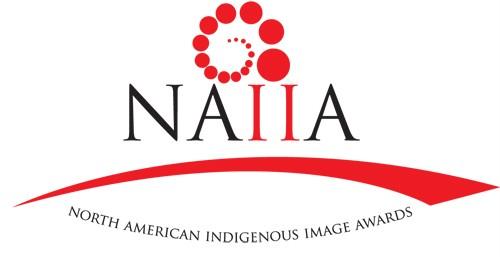 This first annual awards show honors Native Americans and Canadian Aboriginals for their work in media and entertainment. North American Indigenous Image Awards will be given for best magazine, music video, comedy performance and feature film. The evening includes live music performances.
Grand Entry Kick Off Party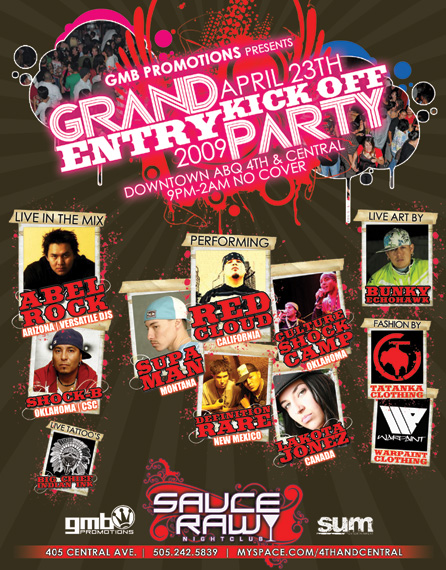 In the spirit of the powwow, Sauce/Raw hosts a slew of Native hip-hop DJs and MCs: Immortal Technique, Abel Rock, RedCloud, Culture Shock Camp featuring Quese IMC and Shock B, SupaMan, Definition Rare, and Lakota Jonez. Big Chief Indian Ink will be on hand for tattoos and the party will feature art by Bunky EchoHawk.
Santa Fe Indian Market Gallery: Studio Tour And Dinner
Meet in the Santa Fe Indian Market Gallery for transportation to the studio of international jeweler Mike "NaNaPing" Garcia. Return to the gallery for cocktails and a special private dinner at Red Sage Restaurant. Price for the afternoon and evening is $95 per person. Call for reservations.
The Red Star Party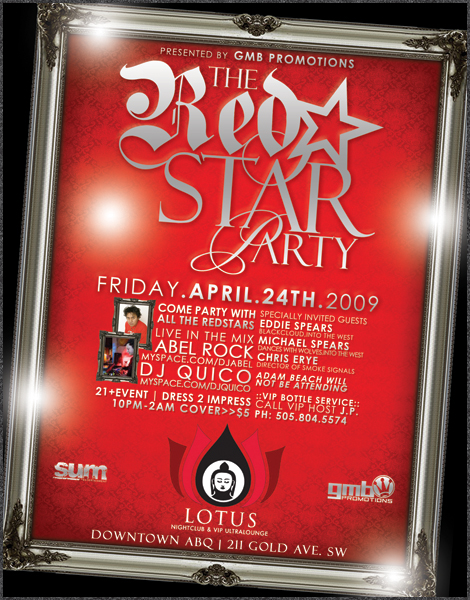 DJs Abel Rock and Flo-Fader will spin for this party. Dress to impress because specially invited guests include actors Adam Beach (
Smoke Signals
and
Windtalkers
), Michael Spears (
Dances With Wolves
) and Tatanka Means (
Into the West
) as well as Chris Eyre, director of
Smoke Signals
.
Rock The 9 Acoustic Dinner Show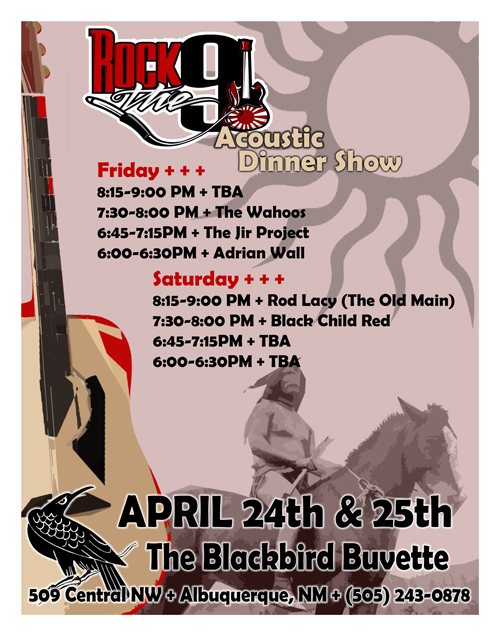 Adrian Wall, The Jir Project, The Wahoos and guests perform.
All Nations Skate Jam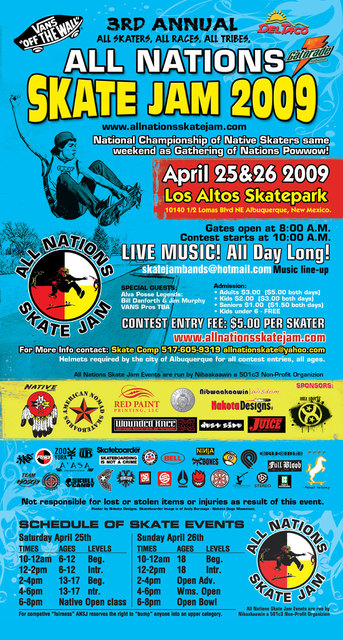 The third annual championship of n8v sk8rs will feature skateboarding pros Bill Danforth and Jim Murphy as special guests. Live music all day long. For more info, log on to the website or contact Skate Comp at (517) 605-9319 or allnationskate@yahoo.com.
Spring Indian Art Market
Buy direct from more than 50 Native American artists. The museum will have a fry bread stand for the weekend.
49 On 4 Th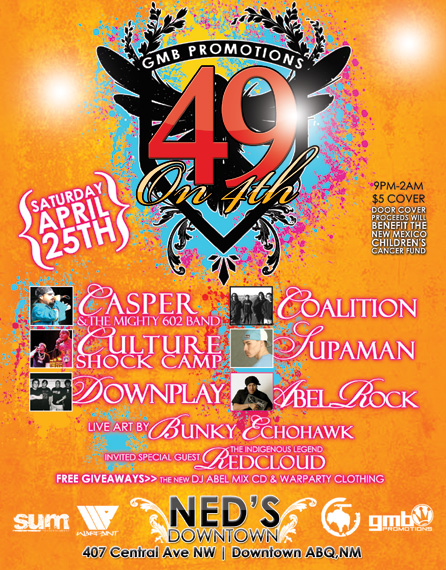 Casper & The Mighty 602 Band, RedCloud, Culture Shock Camp, Coalition, Downplay, SupaMan, DJ Abel Rock and live artist Bunky EchoHawk perform at this benefit for the Children's Cancer Fund of New Mexico.
Rock The 9 Acoustic Dinner Show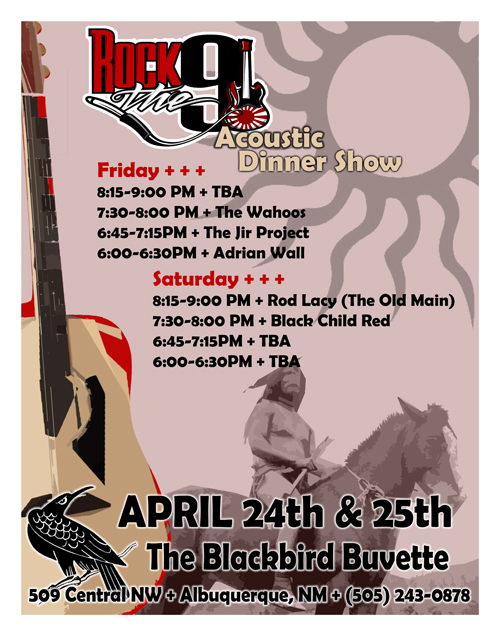 The Old Main frontman Rody Lacy performs with Black Child Red and other special guests.
The Big Ndn Show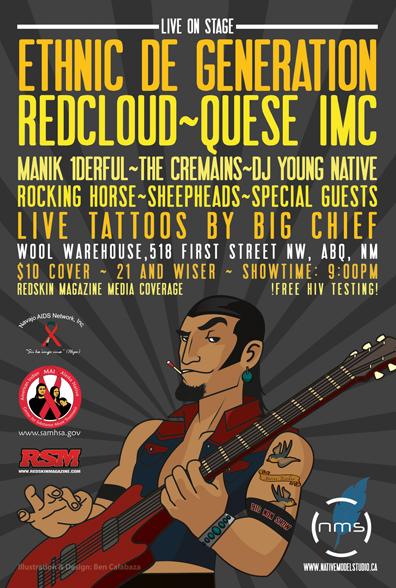 Native Model Studio fashion show, free HIV testing, live tattoos by Big Chief Indian Ink and performances from Ethnic De Generation, RedCloud, Quese IMC, Manik 1derful, The Cremains, DJ Young Native, Rocking Horse, Sheepheads and special guests.
Lakota Jonez Cd Release Party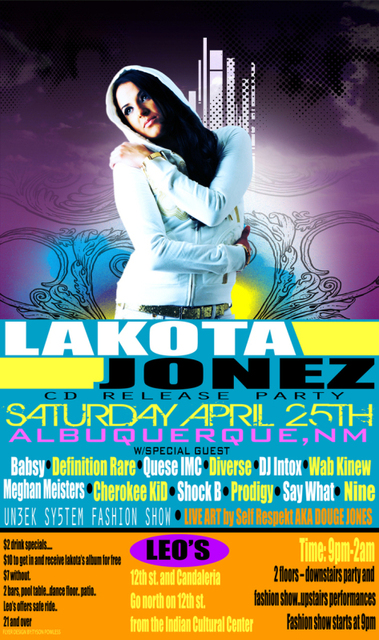 Native American lyricist Lakota Jonez drops her new album
Beautiful
. Babsy, Definition Rare, Quese IMC, Diverse, DJ Intox, Wab Kinew, Meghan Meisters, Cherokee KiD, Shock B, Prodigy, Say What and Nine perform. Live art by Self Respekt and UN3EK SY5TEM fashion show.