Laff It Up—
Russ Meyer, owner of Laffs Comedy Club (6001 San Mateo NE, Suite C-1), will headline his own club on Wednesday, May 3. I'm told he's a very funny man. Show starts at 8:30 p.m. As an added bonus, Wednesdays are College and Military ID Night. Flash one ID and your whole party gets in for free. Even if you aren't a college student or a soldier, admission is only $6. If you could put a price on laughter, which you can't, six bucks would still be a steal. For details, got to www.laffscomedy.com or call 296-JOKE (5653).
Culture Shock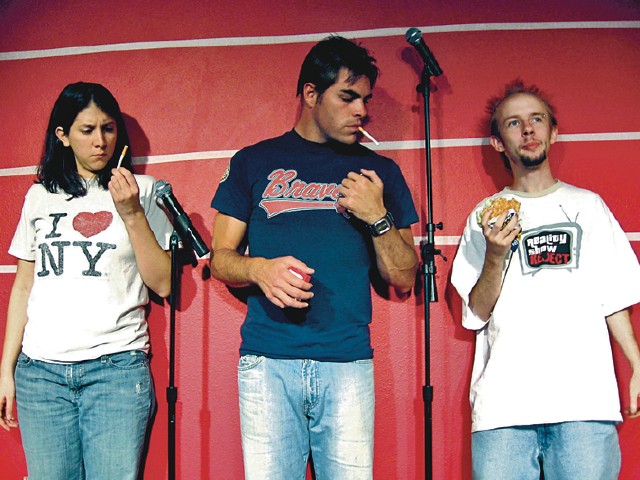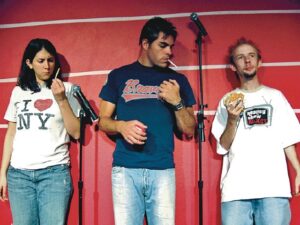 Central Stand Up, Stand Off—
Laugh it up some more at the
Central Stand Up, Stand Off
, a late-night stand-up comedy brawl happening this Friday, April 28, at Gorilla Tango Theatre (519 Central NW), hosted by Kevin R. Elder. Jokesters like Tony Santiago, Ross Kelly, Rusty Rutherford, Scott Bryan and Leslie Nesbit will compete for a cash prize bestowed on whoever gets the most audience votes. Admission is $10. The show starts at 10:30 p.m. 245-8600, www.gorillatango.com.
Culture Shock
Below the Belt—
Perhaps you experience the hell of life in a cubicle all week long. Why would you want to come back for more after hours? Because Richard Dressler's
Below the Belt
will help you laugh through the pain. A new production of this dark working man's comedy, directed by Clareann Despain, and starring local talents such as Andrew Leith, John Hardman and John Wylie, opens this weekend at Sol Arts (712 Central SE). Fridays and Saturdays at 8 p.m. Sundays at 2 p.m. Runs through May 21. $10 general, $8 students/seniors. 244-0049.