With in-person school out this fall, you can also count out field trips. Sad but true, students and chaperones alike are going to have to seek out their own off-campus enrichment experiences to augment their education. Fortunately, the
Weekly Alibi
has found 10 Albuquerque locations to get students young and old started with the help of local author Ashley Biggers' new book
Secret Albuquerque: A Guide to the Weird, Wonderful, and Obscure.
Clearly, this is Albuquerque and there is plenty of weirdness to go around (Biggers' book includes 90 spots), but these 10 free, outdoor locations will get you started. You might even learn something.
Book Review Feature: Glass Graveyard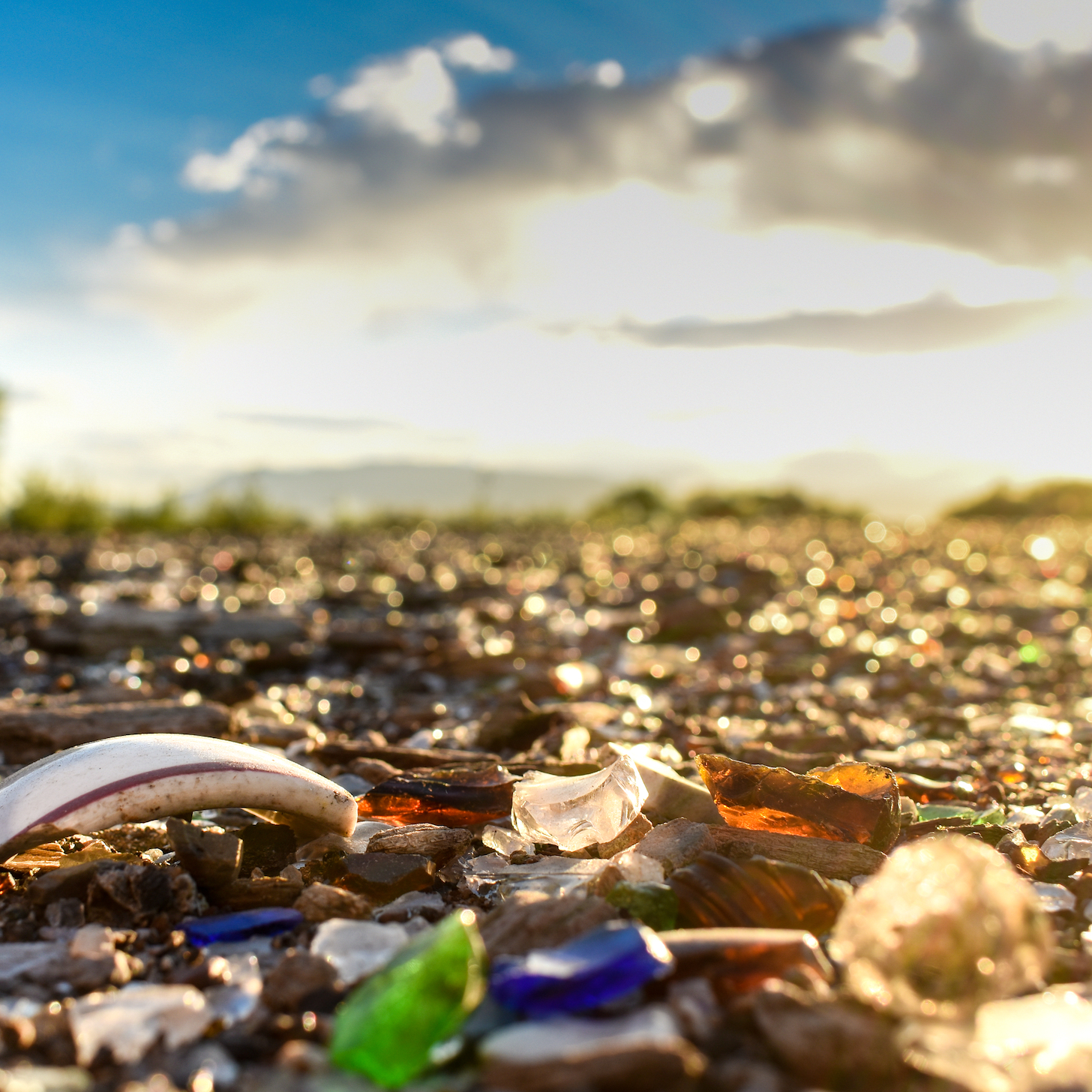 Latitude:
35.064323 |
Longitude:
-106.652596
What You Might Learn:
Trash was less of a problem before plastics. From 1932 to 1946, Burqueños used this spot in the Rio Grande bosque as a dump. Decades later the biodegradable trash has biodegraded, and what is left is a three-acre field of glass and ceramics ground down by time. It's safe to walk around and is protected by the Albuquerque Open Space Division from further dumping. Biggers says in her book, "The acreage feels like an archaeological site, with relics more modern than the pottery shards New Mexicans may find elsewhere but no less emblematic of the culture."
Book Review Feature: Microsoft's First Office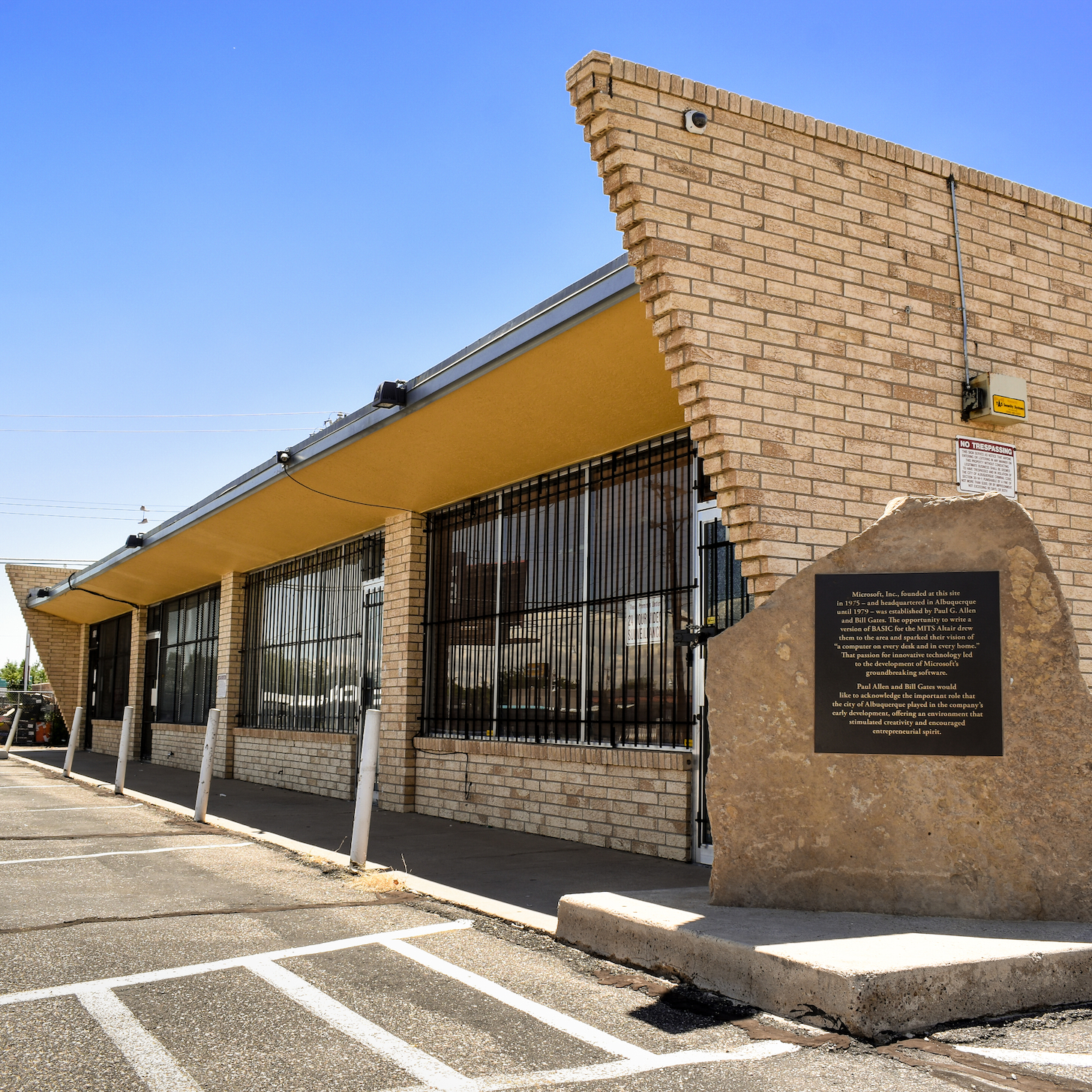 Latitude:
35.077835 |
Longitude:
-106.575272
What You Might Learn:
Revolutions usually have humble beginnings.This humble spot by the fairgrounds was the headquarters of Microsoft back in the mid-seventies as Bill Gates and Paul Allen were creating BASIC and starting the personal computer revolution. Admittedly, it's not much to look at, but there is a take-away lesson from this place that is often overshadowed by the Emerald City as Albuquerque is clearly the cradle of the personal computer.
Book Review Feature: Petroglyph National Monument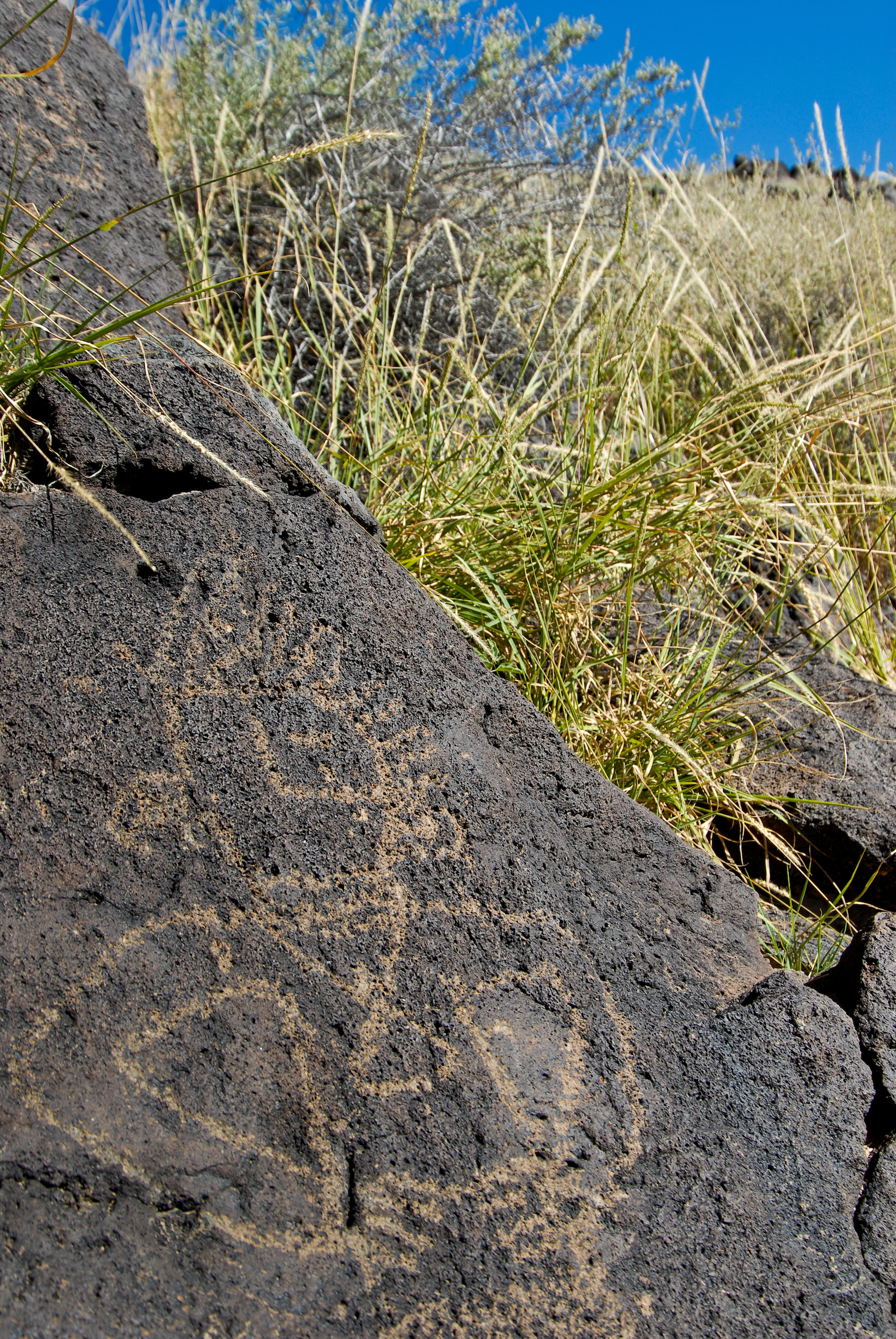 Latitude:
35.138817 |
Longitude:
-106.711296
What You Might Learn:
Always bring water.Maybe you've been to the Petroglyphs before, but the hundreds of 14thcentury petroglyphs are worth a return visit. Keep in mind this is open space, and there really aren't trails. That said, wandering around is probably the best way to discover new markings and contemplate what their makers were thinking when they made them.
Book Review Feature: Uss Bullhead Memorial Park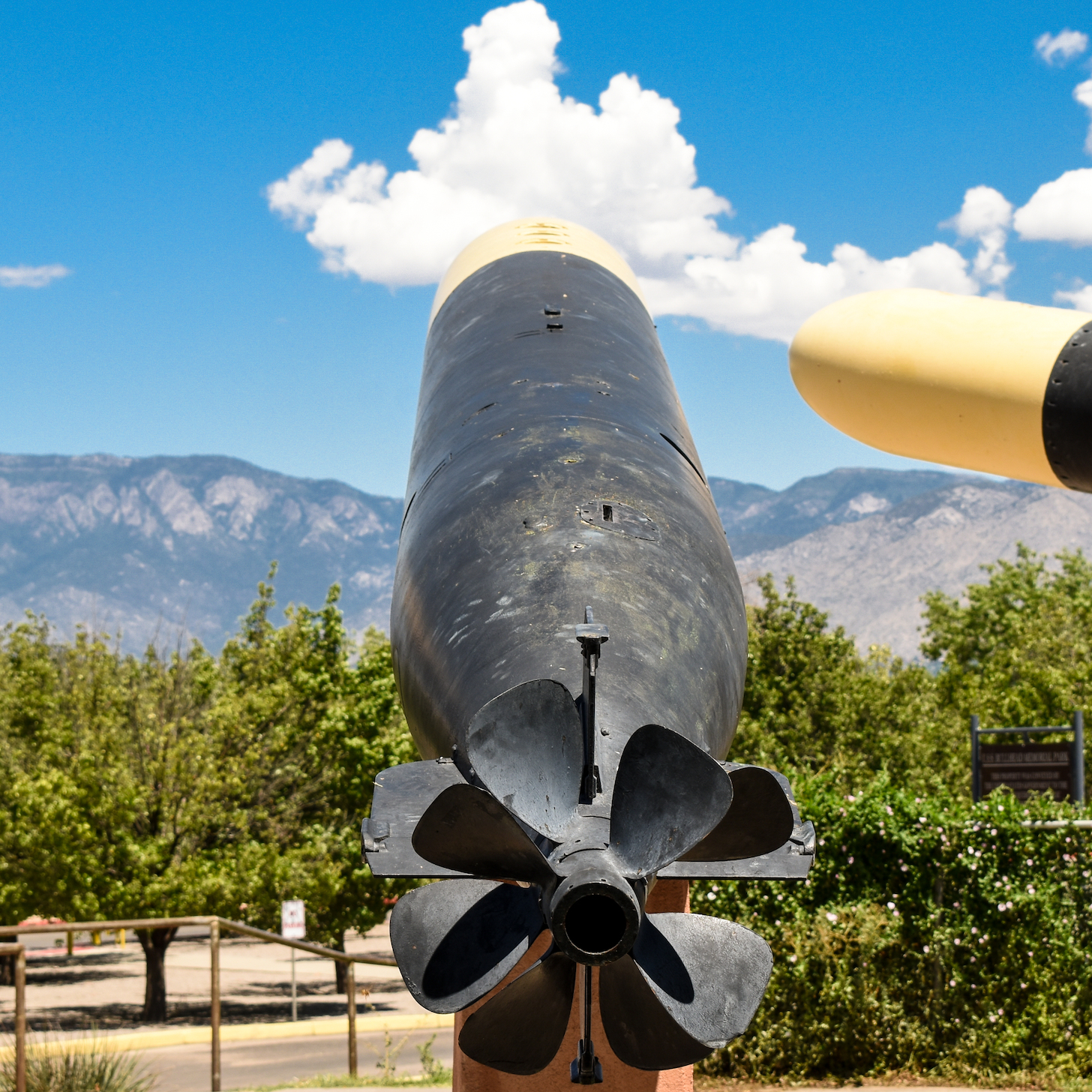 Latitude:
35.053002 |
Longitude:
-106.577867
What You Might Learn:
Other tragedies happened on Aug. 6, 1945.At the USS Bullhead Memorial Park in Albuquerque, we remember the lives of 82 US sailors who died in a submarine bombing by the Japanese on Aug. 6, 1945. Overshadowed by the U.S. bombing of Hiroshima, the deaths of these sailors are no less tragic and are remembered with a plaque and these three torpedoes. As Biggers points out in her book, "The USS Bullhead was the last US submarine sunk during World War II."
Book Review Feature: Albuquerque Indian School
Latitude:
35.107797 |
Longitude:
-106.656529
What You Might Learn:
History is complex.Once the Employees' Dormitory and Club, this California Mission Revival building is all that remains of the Albuquerque Indian School. The history of Indian schools across the country is a largely brutal one, but Albuquerque's Indian School is far more complicated. This building, designed by the school's head of carpentry (Joe Padilla of Isleta Pueblo) and his students in 1931, belies that complexity and encourages further investigation into this chapter of local history.
Book Review Feature: Mile Markers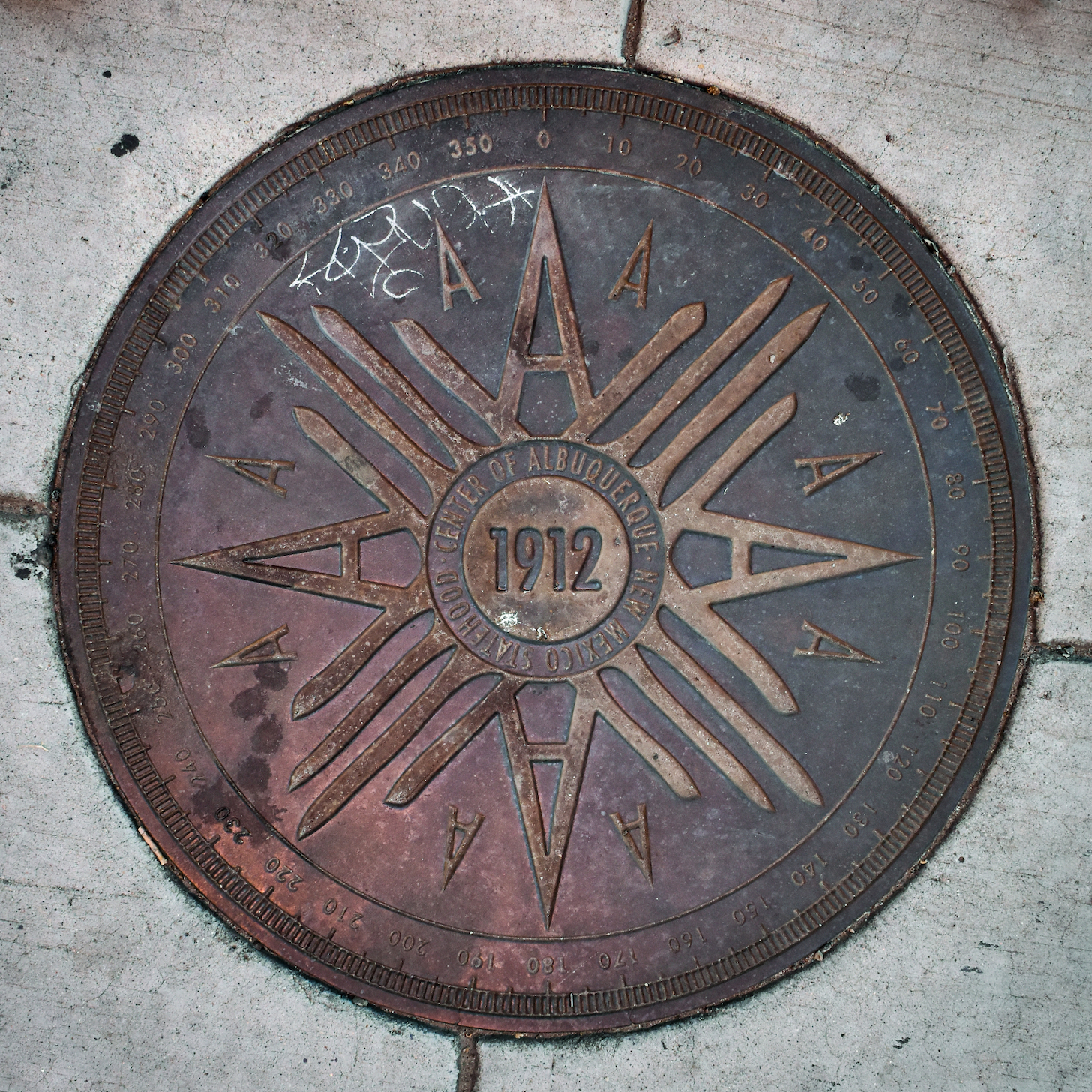 Latitude:
35.082584 |
Longitude:
-106.651985
What You Might Learn:
The growth of the city.New Mexico became a state in 1912 (maybe you already knew that), but at the time Albuquerque was split between Old Town and New Town. This marker outside the current Amy Biehl Charter School downtown that looks like a manhole cover was conceived in 2012 to indicate the distance between Old Town and the railroad-established New Town. Its sister marker is located 1.8 miles north in Coronado Park and indicates the middle of Albuquerque's population in 2012.
Book Review Feature: Lumberjack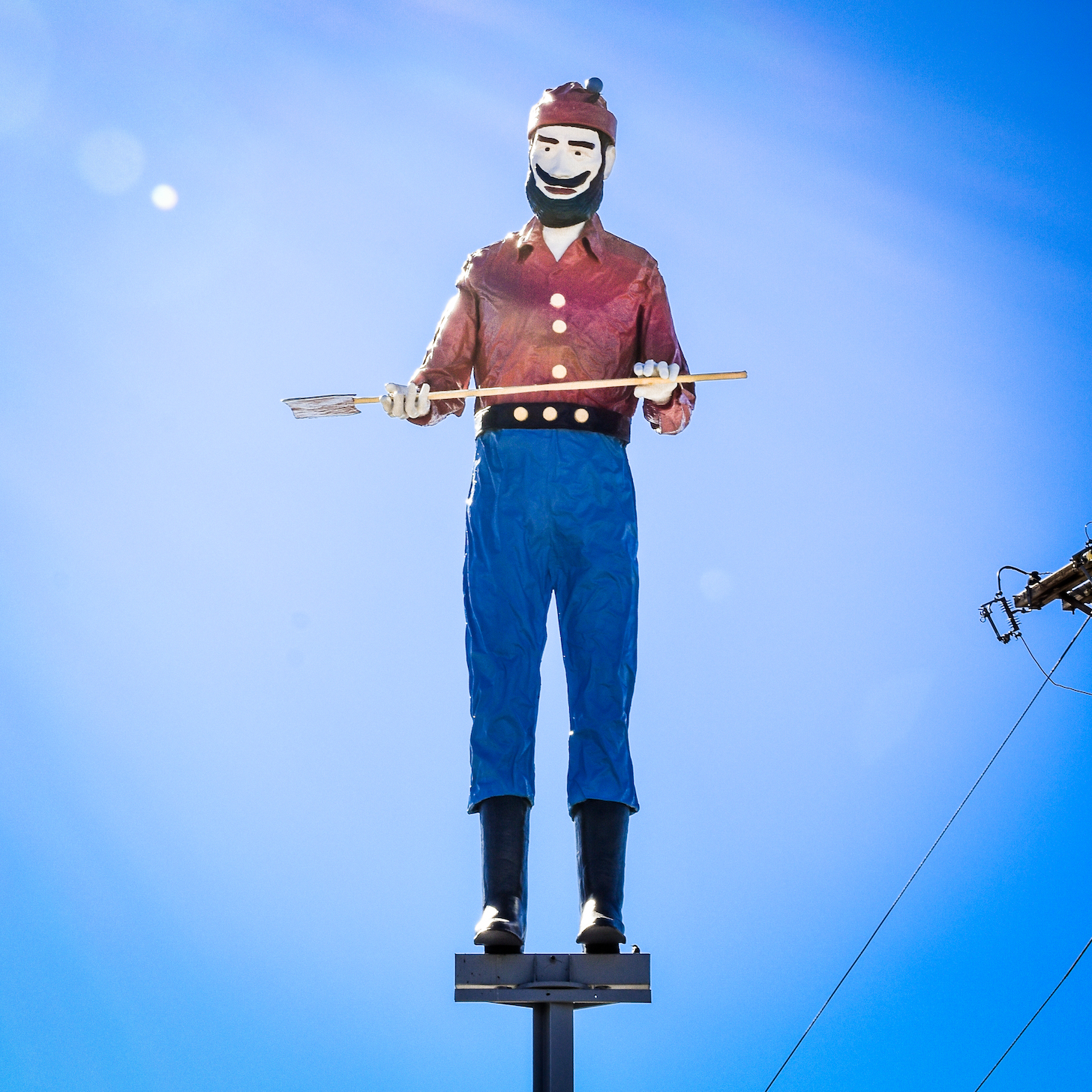 Clarke Condé
Latitude:
35.074879 |
Longitude:
-106.568558
What You Might Learn:
Asking for extra-spicy is a risk worth taking.Immortalized in cartoon by the likes of the great Bill Griffith, Albuquerque's lumberjack has overseen this stretch of Central Avenue since 1974. Much like this part of town, the lumberjack has seen good times and bad, having stood arm-less for six years until restored in 2019. Once he stood over a lumber store, he now guides dinners to the May Café. Get your order to go and just gaze up at him from the parking lot.
Book Review Feature: "Auto Hawk"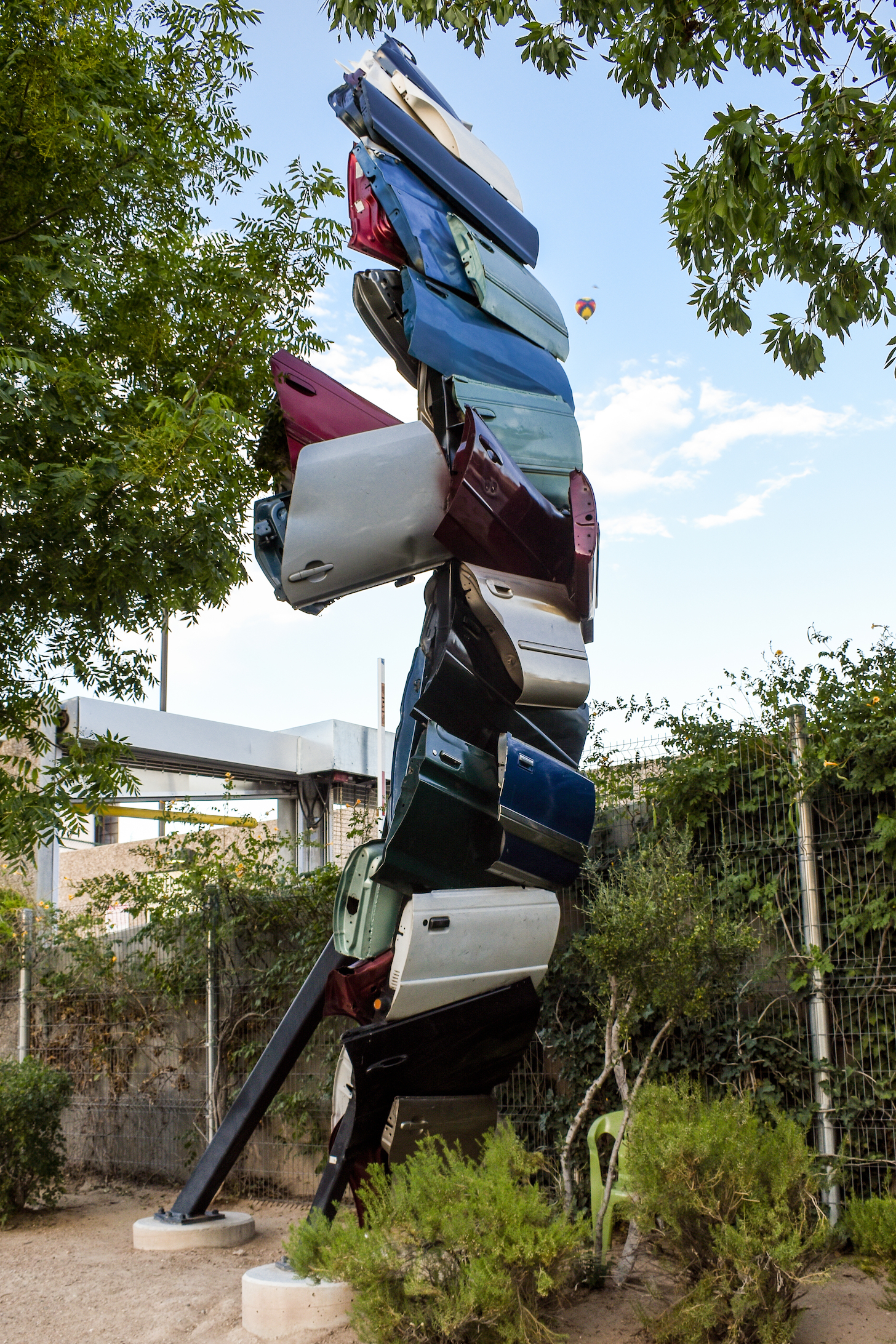 Latitude:
35.08213 |
Longitude:
-106.648415
What You Might Learn:
Upcycling.According to Biggers, sculptor Christopher Fennell's "Auto Hawk" is a "winged creature made of reclaimed doors." Towering over First Street, it is the kind of urban sculpture that stands naturally within its environment. Composed of 30 car doors, its neighbors are a parking garage, a railyard and the bus station. Does it look like a hawk's wing to you?
Book Review Feature: "Our Lady Of Guadalupe"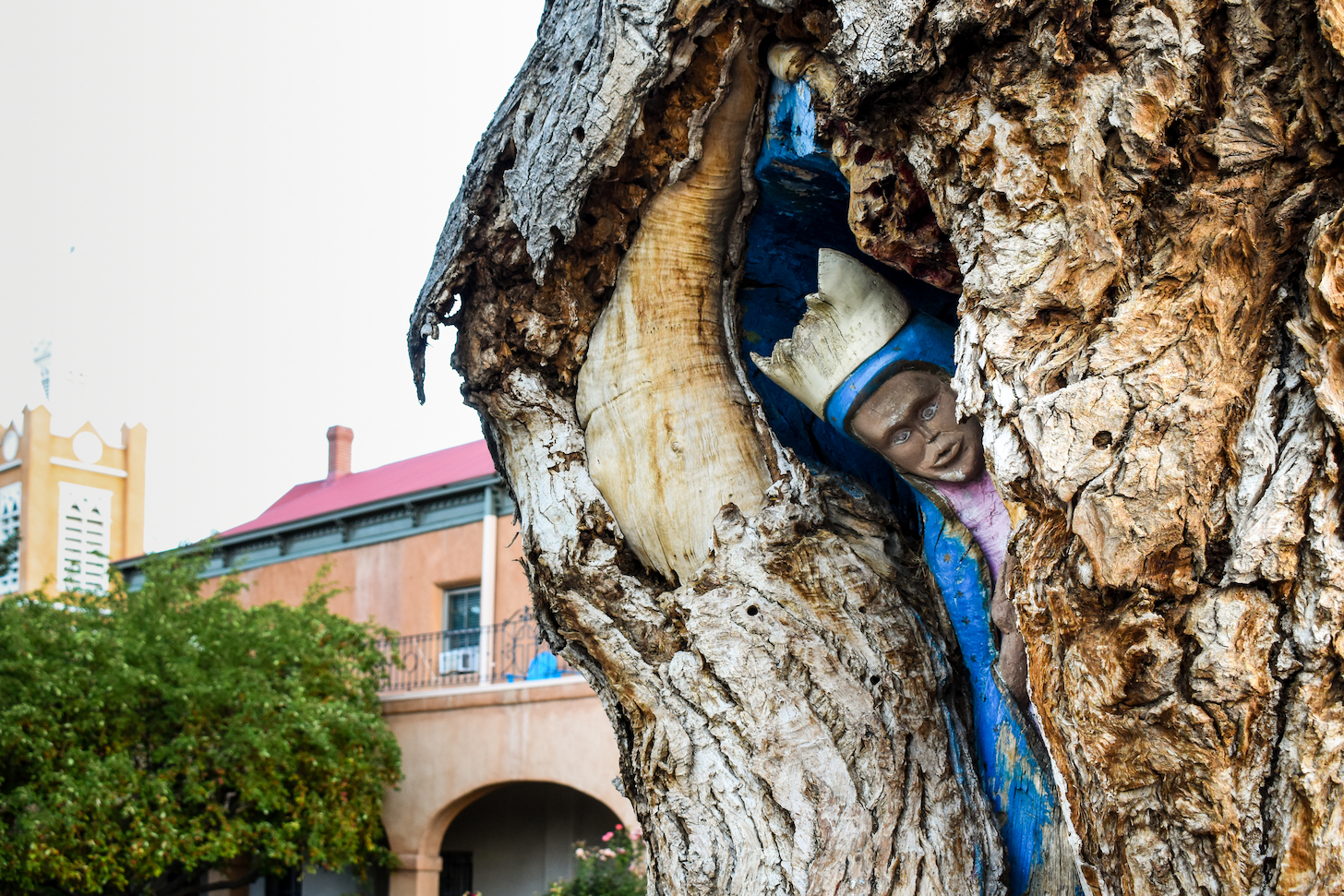 Latitude:
35.096414 |
Longitude:
-106.669571
What You Might Learn:
Unexplained things happen sometimes. Toby Avila started carving "Our Lady of Guadalupe" out of a cottonwood tree behind Old Town's San Felipe de Neri in 1958. According to Biggers, Avila had served in the Korean conflict, praying often to Our Lady of Guadalupe and vowing to show his appreciation for his safe return to Albuquerque. He carved at night with a flashlight for more than a year, and then died days after the sculpture's completion. In 2011 a windstorm blew down the tree and the church put the sculpture in the front courtyard.
Book Review Feature: Route 66 And Route 66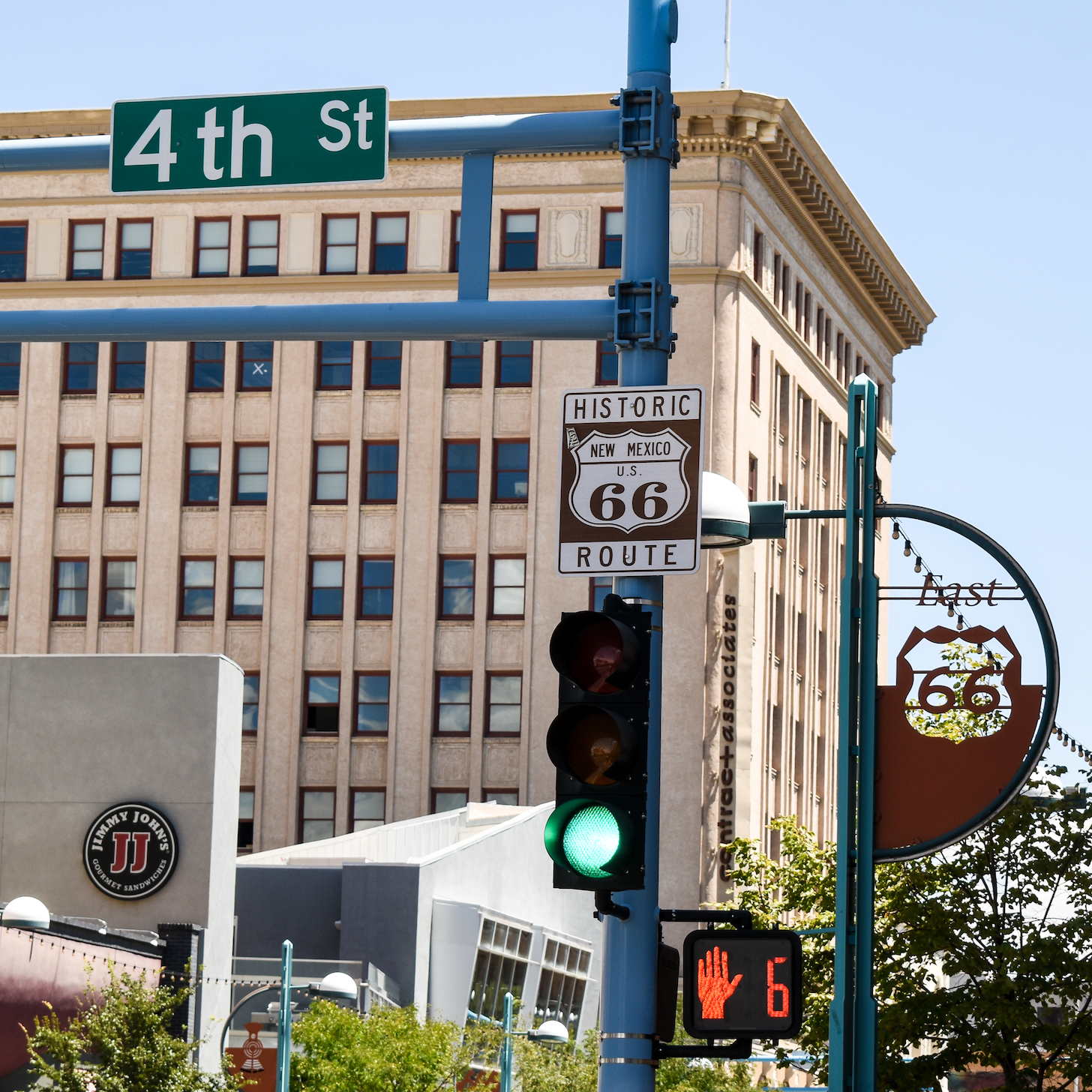 Latitude:
35.084539 |
Longitude:
-106.651603
What You Might Learn:
The history of the open road.The history of Route 66 is a chapter of Western expansion that goes right through the heart of Albuquerque. In fact, one time it went down Fourth Street into Downtown and another time it went down Central Avenue into Downtown. At the intersection, we have the unique occurrence of the only place where the road intersects itself. It's one more piece of Route 66 lore worth considering among the car-driven chapters of development of Albuquerque.
Secret Albuquerque: A Guide to the Weird, Wonderful, and Obscure.By Ashley M. BiggersReedy Press