A map of the world is not a puzzle. Its pieces don't snap together and hold—they're amorphous, they fluctuate, and they are transformed by their proximity to one another. Look at the work of Adrian Esparza: He takes cheap, mass-produced serapes, the emblematic striped textiles of traditional Mexico, and unravels them until they're piles of multicolored string. He suspends the strings in patchwork formations, like penciled lines of shading, to create abstract geometric wallscapes. His Pop-Art-esque transformations of the knockoff serapes, themselves already derived from traditional Mexican garments, underline the exchange between Mexican craft and US consumption—
la frontera
, the border, remains fluid. Esparza's installations feature in
Art at the Border: 21st Century Responses
, the new exhibition at
516 Arts
(516 Central SW). The show's work, by artists that range from up-and-coming to established, emerges from the ragged sociopolitical edges forged along the US-Mexico border. Another featured artist, Margarita Cabrera, sculpts cars and tractors that call attention to the poorly paid workers in Mexican
maquiladoras
assembling American vehicles; her "John Deere Tractor Model #790 (#1)" is a life-size tractor replica that's cast in clay, covered in earth-toned slip paint and bedecked with vines and flowers.
Art at the Border
continues through January 2014 at 516 Arts, which is open Tuesdays through Saturdays from noon to 5pm. Free.
Culture Shock: To Serve Man To Serve Man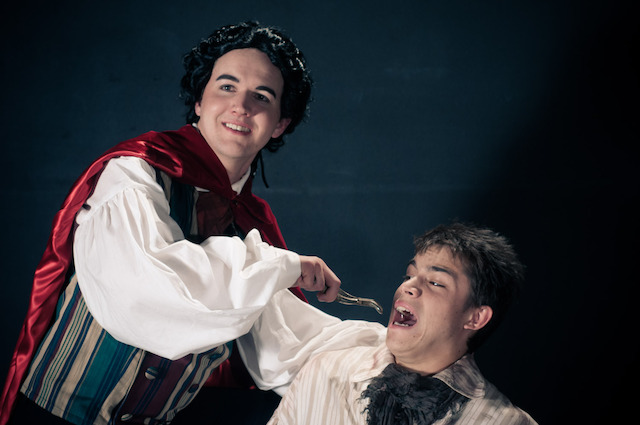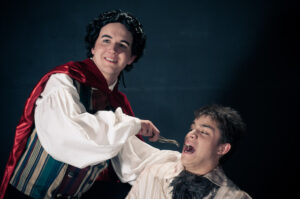 Jason Ponic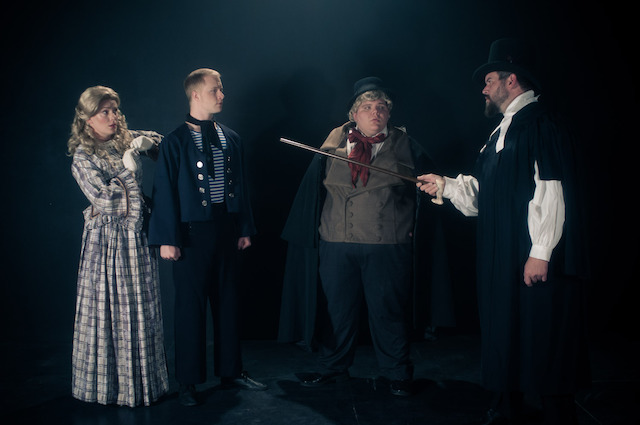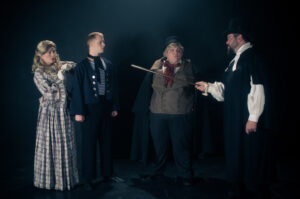 Jason Ponic
Bloodlust, revenge, cannibalism, rape, corruption—those Victorians got down to brass tacks when it came to scandalizing an audience. Take one popular old tale of a barber who slashes the throats of his customers before sending their bodies off to get baked up as meat pies, blend with jaunty-yet-macabre music and lyrics by Stephen Sondheim, and flesh out with an appropriately gruesome libretto by Hugh Wheeler—then serve up some steaming bowls of that wildly popular staple of the musical stage,
Sweeney Todd: The Demon Barber
.
Musical Theatre Southwest
brings the gruesome crowd pleaser, directed by Hal Simons, to the 100-seat MTS Center for Theatre Black Box (6320-B Domingo NE, near the fairgrounds) starting Friday, Oct. 18. The darkly humorous spectacle, accompanied by a 7-piece orchestra, runs through Nov. 10, playing Fridays and Saturdays at 8pm and Sundays at 4pm. Tickets are $20 to $22; get yours at musicaltheatresw.com or by calling 265-9119.
Culture Shock: You Are Closer And Closer You Are Closer And Closer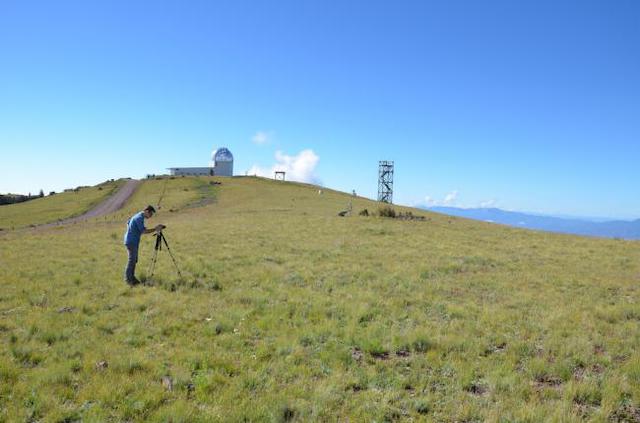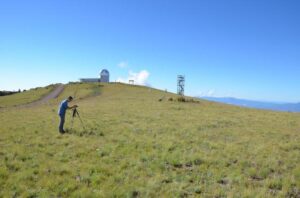 Michael Bisbee
On Friday, muster up some warm clothes, water, sturdy shoes and a blanket. Get in your 4-wheel-drive vehicle and pick up your friends. From Albuquerque, head south on I-25 for about an hour until you reach the
Magdalena Ridge Observatory (MRO)
, perched 10,600 feet up in the Magdalena Mountains in Socorro County and situated to view far-flung celestial objects near the horizon, like asteroids. At 6pm—dusk—gather with the others. Sip hot tea and wait. Feel the air on your face. Gaze at the Very Large Array, at the slopes fading into the distance, at the clear darkening sky. Listen. Across the wide spaces, tones will begin to resound.
This distance makes us feel closer.
is an immersive work of sound sculpture by LA artist Chris Kallmyer, performed by custom-built instruments installed in the high desert landscape. The performance will last from 6 to 7pm on Oct. 18, followed by a tour of the MRO interferometer facility, then conversation and stargazing until midnight. To attend, RSVP at
mro.nmt.edu
. Also get directions and read up on what else to bring. Free.