We put out a call to local artists, asking them to show us how they'd redesign an
Alibi
distribution box. We were subsequently showered with submissions, and we spent weeks poring over drawings, sketches, digital renderings, and mad ramblings in letters and emails. Notions of every sort sloshed across our desks, fresh from the minds of our city's creative geniuses.We appreciate the hard work of everyone who submitted. The project was so successful that we'll be doing it again, so hang on to your unrealized ideas. The boxes we chose are planted along the Central corridor, and we're making a box-by-box podcast tour with more detailed information about each artist and their creation. Watch for it on alibi.com. Hugs and high fives to the first wave of
Alibi
box designers! They did it for love, but we're going to give them some prizes anyway. The
Alibi
thanks these generous local businesses for supplying the artists with gift certificates:
Waco's Tacos
,
Al's Big Dipper
,
Bailey's on the Beach
,
Rasoi
,
Chillz Frozen Custard
and
The Talking Fountain
.
Dillaway is a multimedia installation artist who has been endowed by the Andy Warhol Foundation, the Rockefeller Foundation and the National Endowment for the Arts.
Younis y Delgado, a Santa Fe native, was taught the art of tinsmithing at an early age by his grandmother and great uncle. Today, he continues the craft of five generations, participating in local shows and demonstrations.
Canavan attended the Fashion Institute of Technology in New York. He and his brother developed a cartoon universe called Zodo, images from which appear on this box. Canavan's piece is titled "The House of Princes."
This is a comment on the Rio Grande Zoo giraffe and rhino carcasses that were disposed of improperly. Adams says, "It's almost a metaphor for Albuquerque … the duality of the beauty that surrounds us and the harsh environment that we live in."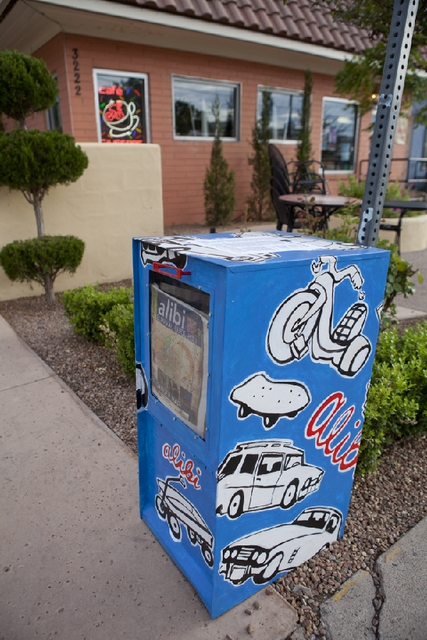 Eric Williams ericwphoto.com
Bailey says some inspirations for his piece include: childhood summers; '70s Scranton, Penn.; smoke stacks; trash; calm dumps; big cars; bikes and trucks; and "my cousins rolling us down a hill by grama's in an old tire."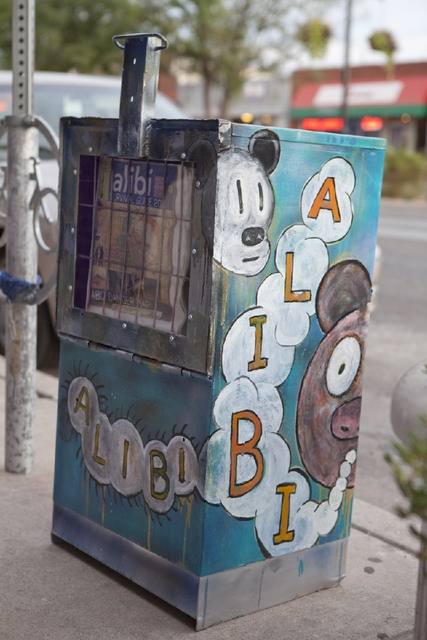 Eric Williams ericwphoto.com
Dent works with imagery from early-20
th
century studio animation. "Taken out of their original context and tweaked," he says, "seemingly innocent characters become a bit unnerving."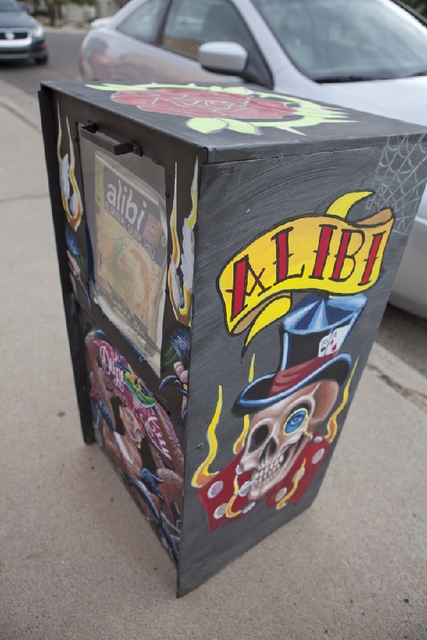 Eric Williams ericwphoto.com
Griego has been tattooing and creating art in different mediums in Albuquerque for about 15 years. He likes to work in traditional tattoo styles as well as fine art. He painted two panels on the box. The other two panels are by Briggs, who is a tattooer and an artist known for his murals sprinkled throughout Nob Hill and all over the city.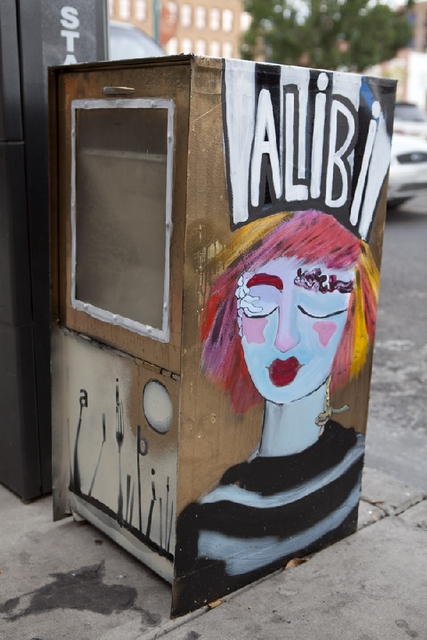 Eric Williams ericwphoto.com
Amsterdam-born Eva Ave. likes to sit still without thinking for long periods of time at the Albuquerque Zen Center. She is responsible for the "Nightly Noodle Monthly," a tongue-in-cheek-foot-in-mouth-Buddha-cop-satire art zine, and she makes large, abnormal behaviorist paintings at the Factory on 5
th
. She also plays doom saloon piano and drums with Carlosaur in venues around town.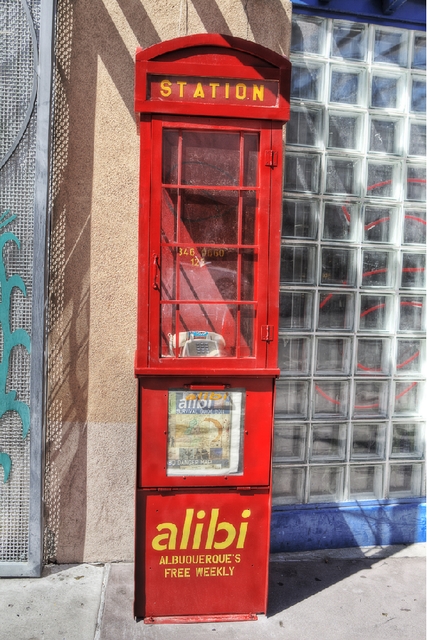 Eric Williams ericwphoto.com
Delahunt writes in her artist's statement, "Let's play! Let's talk! Let's listen! It is consistently surprising to me how hard it is to do these three things. Consequently, I always end up making objects that help me play, talk or listen. 'The Report Station' becomes a centralized location for these actions to mingle. But what I like most about it is its ability to celebrate!"For the next month, this box will function as a reporting center for the thoughts, dreams and confessions of the public. You'll soon find MP3s on alibi.com.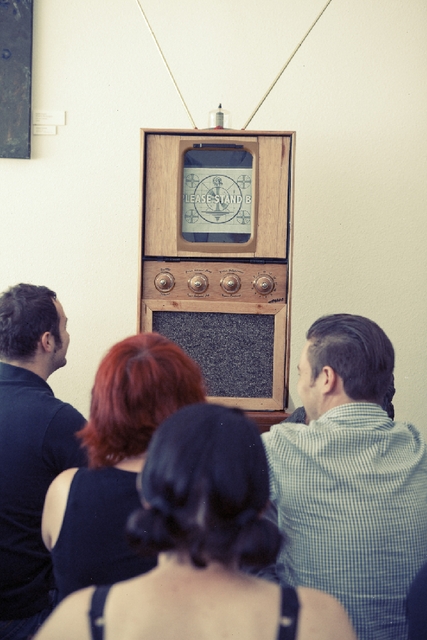 Eric Williams ericwphoto.com
Higdon has a BFA in visual art with a focus in sculpture from the College of Santa Fe. His early childhood memories were formed during the "golden age of television," hence the inspiration for his box.
Artist: Genie Muellerfind It: Starbucks3400 Central Se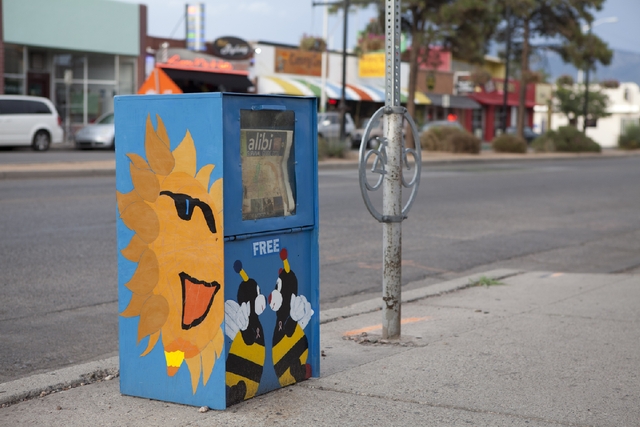 Eric Williams ericwphoto.com
Creating art for more than 40 years, Mueller fabricates silver jewelry, weaves wall hangings using modern materials and works in encaustic. She also paints in oils, acrylics and watercolors.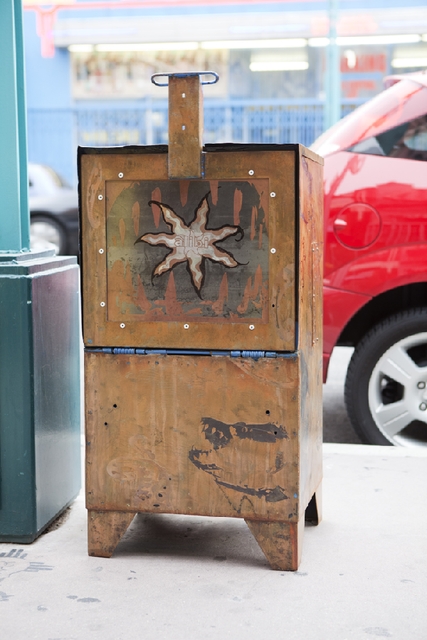 Eric Williams ericwphoto.com
Trained as a design engineer, the work Reasner does is functional—such as screen doors, furniture and hardware. He works exclusively with metal and likes to use patina because of its unpredictable patterns and colors. His bronze-hued piece is titled "Deep 6."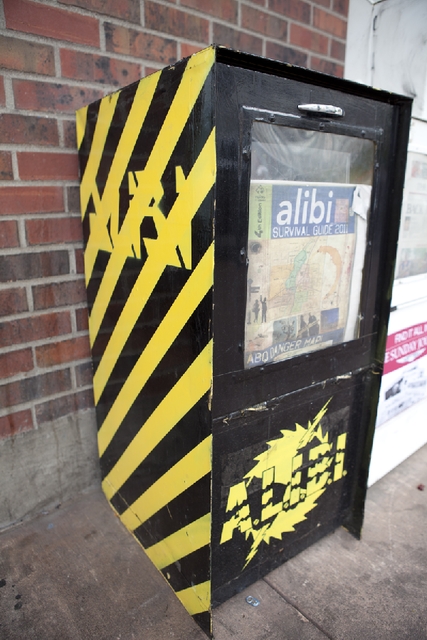 Eric Williams ericwphoto.com
Geoff Plant works as the
Alibi's
circulation manager, and he is awesome.