Filmmaker Justin Evans' locally shot action film
A Lonely Place For Dying
just nabbed an award for Best Stunts at the
Maverick Movie Awards
. The MMAs are awarded to outstanding independent/underground movies with "a sense of style, a foundation in craft and the power to communicate." Albuquerque stuntman Kurly Tlapoyawa (an occasional
Alibi
contributor) served as the film's stunt coordinator and says he was honored to get the award. "It just goes to show that the quality films being shot in New Mexico right now are locally made, independent films," says Tlapoyawa, "far removed from the Hollywood system that everyone seems to be so enamored with."
A Lonely Place For Dying
will screen at the upcoming TromaDance New Mexico film festival, which runs from Dec. 10 through 12 at the
Guild Cinema
in Nob Hill.
Reel World: Ifdm Open House Ifdm Open House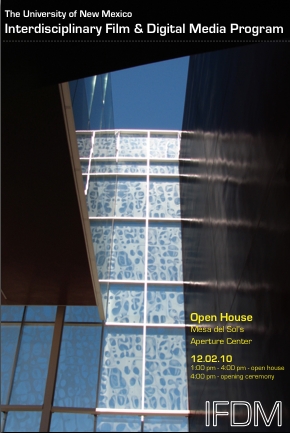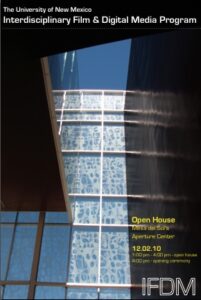 The University of New Mexico is kicking its new
Interdisciplinary Film & Digital Media Program
into gear this coming January. By coordinating various departments—from Fine Arts to Engineering to Arts and Sciences to the Anderson School of Management—and mixing them into the school's Film and Digital Media Program, IFDM hopes to integrate filmmaking and digital media with various other disciplines. By diversifying to meet the needs of not just directors, but writers, animators, producers, marketers and more, the program could be a big step toward helping build a native New Mexican movie industry. On Thursday, Dec. 2, the IFDM will host an open house to celebrate the newly constructed teaching and collaborative research facility at Mesa del Sol's Aperture Center. The open house will run from 1 to 4 p.m. During that time, you'll be able to check out the state-of-the-art facility, see multimedia presentations from IFDM students and affiliated faculty, and experience immersive media works by IFDM's research partners at UNM's ARTS Lab. Shuttle service from the UNM Bookstore bus stop to Mesa del Sol's Aperture Center runs every 30 minutes, beginning at 12:45 and ending at 5:45 p.m.
Reel World: Emote! Emote!
Hannah Macpherson, creator of the "
Date Doctor
" web series, will be hosting her "most intense class yet" with Evening Acting Workshop: Emotion and Believability. Concentration will be on opening yourself up emotionally and giving an "honest" performance as an actor. Scenes will be videotaped and watched for further study. The class will take place Monday and Tuesday, Dec. 6 and 7, from 7 to 10 p.m. Cost is $100. Class size is limited to 10 people, so it might fill up quick. To reserve a seat, e-mail
macpherson.hannah@gmail.com
.