Middle Eastern cuisine is one of my favorites, but I only recently learned about eating halal—the Islamic version of kosher. The word "halal" simply means lawful or allowed. The Islamic laws that govern the preparation of food—especially meat—are nearly identical to the requirements for the best organic products. In accordance with Islamic law, the person taking the animal's life must invoke the name of God at the time of the slaughter. Animals have to be treated humanely from field to table. Companies that sell halal products are certified. Pork is haram—unlawful.Just as with kosher foods, there are many commercial companies that process and certify a wide variety of products as halal. One sells halal marshmallows. Some Muslims eat all kinds of fish and marine life. Others will eat shrimp or fish with scales, but not lobster or mollusks. Alcohol is not halal. The devil is truly in the details.While there are many Middle Eastern establishments in town, my search found only a few that are halal. These stand out:
Mina's Dish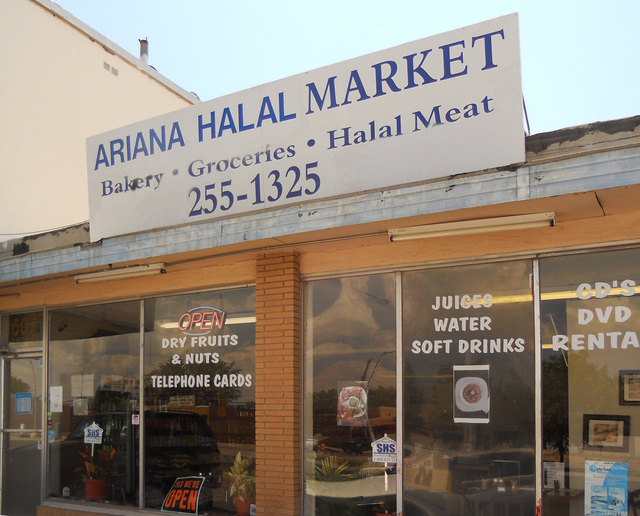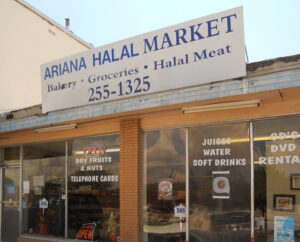 Mina Yamashita
Ariana Halal Market
607 San Mateo NE • 255-1325
arianamarket.com
I first visited Ariana Halal Market just after it opened in the fall of 2009. Long loaves of fresh-baked flatbread filled the shop with a tempting aroma. The store was spare, with only a few refrigerated cases filled with yogurt, cheeses and meats. Now there are tables for lunch and dinner service, as well as shelves laden with Afghani groceries. The meals highlight Afghan cuisine with fresh vegetables grown locally in addition to its halal meats.
Mina's Dish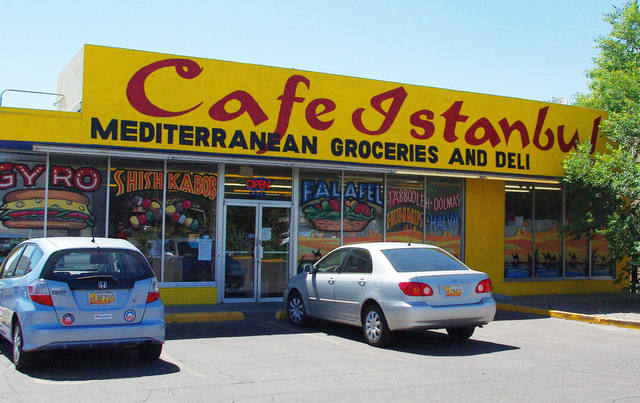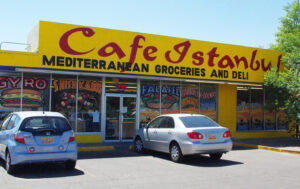 Mina Yamashita
Café Istanbul
1415 Wyoming NE • 294-9900Nassar and Itedal Akkad established Café Istanbul 11 years ago. Itedal tells me she needed ingredients for her own recipes, and so the café and deli with halal goods and groceries was launched. The meat is brought in from a halal-certified company in California.The Akkads have just expanded the café, moving it closer to the kitchen. The store has one of the widest selections of halal meats and ingredients in town. There's a treasure trove of spices, among them the sumac that I've added to my pantry. The café offers excellent Middle Eastern dishes. I especially recommend the olives and the bulk Bulgarian feta.
Mina's Dish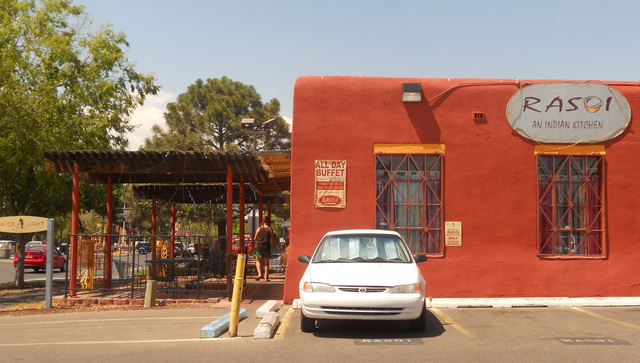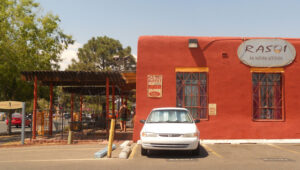 Mina Yamashita
Rasoi
110 Yale SE • 268-5327
rasoiabq.com
Rasoi's owner Lareesa Agarwal originally earned her degrees in interior design and contracting—professions she plies in addition to her work as a restaurateur. This keeps the mother of two on her toes, but her talents are nicely represented in Rasoi's decor—exotic silks draped over windows and a homey dining room.Rasoi established itself in the University (or is that Brick Light?) district in October 2007. The Indian buffet has since become a popular destination for lunch and dinner, and it offers a tantalizing selection that includes tandoori chicken, pakoras, goat curry and an excellent saag paneer. Homemade naan complements each meal. Both the buffet and full à la carte menu include meals for vegetarians as well as omnivores.When I ask why she offers halal dishes in her Indian restaurant, Agarwal notes that many of her customers attend the Islamic Center just down the street. Though not all of her menu is halal, she serves halal lamb and chicken on request.
Mina's Dish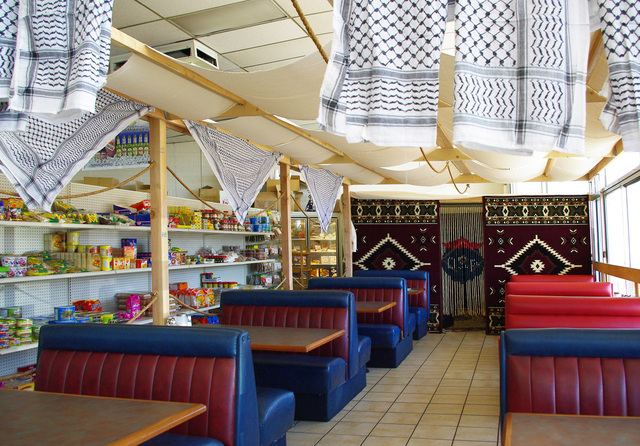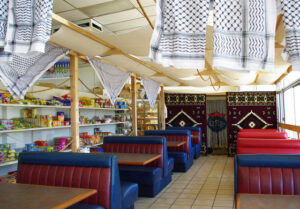 Mina Yamashita
San Pedro Middle East Restaurant
4001 San Pedro NE • 888-2921Mohamad Jalil and Bilal Omar opened Middle East Restaurant as a grocery with just a few tables in 2009. Their in-house bakery produces fresh breads daily. The dining area is canopied, giving the space the feel of a desert ramada. Two rows of booths lead to a traditional dining room for private parties. The menu boasts some of the best falafel and shawarma sandwiches around. Perfectly spiced, the combos include a beverage and a piece of rich, buttery baklava. A dark Arabic coffee is Jalil's own blend, enhanced with a touch of cardamom. I especially enjoyed the iced tea—black with the flavor of mint. Jalil, Omar and Ebramem Kahla all cook the traditional dishes with flavor to spare.At the grocery I bought large cans of fig and apricot preserves. You can take home halal marshmallows with your halal meats. Jalil tells me that the grocery serves a largely Muslim population, while nearly 80 percent of diners are non-Muslim Burqueños just looking for good Middle Eastern eats.
Mina's Dish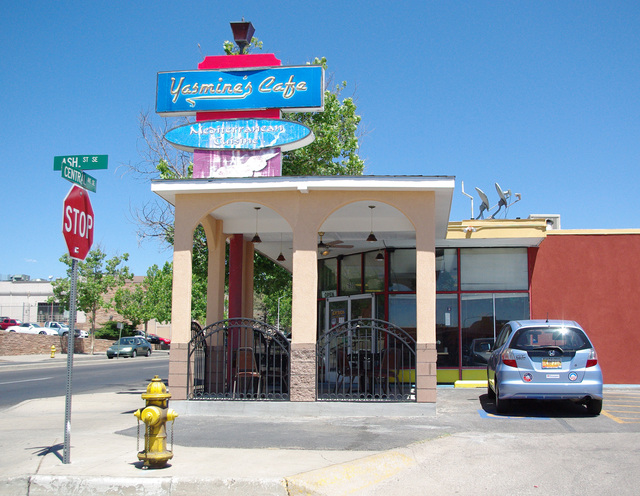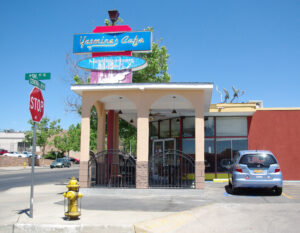 Mina Yamashita
Yasmine's Café
1600 Central SE • 242-1980In May 2010, Sam Iessa took over ownership of Yasmine's Café. In addition to a new patio dining area, there's now a halal menu. Yasmine's offers dishes from the Mediterranean (with a nod to North Africa—there's a lamb couscous I have to try). Manager Ismael Suwwan notes that their customers include vacationing Muslims who are looking for halal restaurants in New Mexico.The meat combo platter includes a trio of lamb, chicken and beef cooked to perfection and served on a bed of fluffy rice. My hummus was nicely spiced and garnished with olives and sumac. A salad of chopped romaine, cucumber, tomato, red onion and kalamata olives was crisp and fresh, while the baba ghanoush appetizer was pleasantly smoky and served with house-baked pita.
Send your restaurant tips, food events and other delicious tidbits to food@alibi.com