My favorite Vietnamese restaurants are the durable type. With worn floors, and few frills beyond a TV on mute and perhaps a jungle of real and fake plants, those tired-looking dives are often full of Vietnamese customers, and for good reason. They serve the real stuff, unfiltered and unedited for an American audience.Viet Q, a three-month-old restaurant in the Northeast Heights, is an exception to my rule that the prettiest Vietnamese restaurants are the most likely to disappoint. Fabulously decorated and suspiciously tidy, the menu—while short by Vietnamese restaurant standards—has a lot of interesting options. And if you pay attention, you may see a few items leave the kitchen that aren't on the menu, destined for those who know what to ask for.All my visits began with an amuse-bouche of papaya salad, which kept me company as I read the menu. The salad was light and not fishy, a milder version of the familiar Thai-style papaya salad.
When I tried to order a bowl of "Viet Q special noodle soup," the server suggested I consider something less spicy. I knew her suggestion was coming from an altruistic place. But this is New Mexico, amiga. I ordered the spicy noodle soup anyway.A pile of thin, raw beef gradually turned from red to pink in the hot, chile-red broth, alongside well-cooked beef slices with decadent pieces of melting fat. A tangle of large, round noodles awaited below. The broth steamed my face. It was spicy, but not enough to keep me from adding a side of jalapeños, which put me perfectly over the edge. Owner Sa Nguyen giggled when he walked by and saw me sweating. I could only dab at my face with my napkin and grin.Nguyen, energetic and spry, is determined that nobody leaves his restaurant unsatisfied. "If anybody orders something they don't like, they can order something else, and something else, until they get what they like," he says. "I don't charge for what they don't like."His dining room is smartly painted orange and gold, with slate floors that appear to crawl up the walls in places. Sexy red and black lampshades dim the fixtures above the tables. The walls are nearly empty, save for a photo and a sculpted metal
"
Q" that Nguyen explained stands for Albuquerque. A large, flat-screen TV seems unusual amid such upscale decor, but it's a nod to the locals—local to Vietnam, that is.I watched my server bring a strange green drink to an Asian couple seated nearby. I asked her what it was. "Pennywort herb," she said, making a face. "Very bitter." She said it's not on the menu, but they stock the ingredients because their Vietnamese customers ask for it. She brought me a sample—not at all bitter thanks to all the added sugar. Friday evenings and all day Saturday and Sunday are good days to get dishes that aren't on the menu, Nguyen told me. "Vietnamese homestyle specials" is how he described them.The "grilled beef wrap grape leaf" appetizer appeared as five pieces of what looked like Greek dolmas, sprinkled with crispy onion shards and arranged around a bowl of fish-, garlic- and chile-dipping sauce.
The leaf-wrapped meat was juicy, with a faint aroma of five-spice. The clay pot tofu and rice dish is one of several clay pot options on the menu. If you haven't tried Vietnamese clay pot cooking, you should. Viet Q's vegetarian version had a rich brown sauce, a mess of bright veggies cut into fun shapes and golden brown blocks of silken tofu, their molten guts barely held inside by thin, fried skins. Grains of rice gently adhered to the bottom and sides of the clay pot, becoming deliciously chewy and browned as they continued to cook.Vietnam is the largest producer and exporter of black pepper, a fact that's key to the deep-fried salt and pepper squid. The dish looked like a big plate of onion rings on a nest of shredded salad. Soft yet crisp, wide-diameter slices of squid were seasoned with salt and pepper. A beer would have been perfect. But since the restaurant doesn't have a license yet, I had to settle for a wonderful glass of fresh-squeezed orange juice, followed by an ice coffee made with coffee so strong it actually overpowered all the sweetened condensed milk.My only wrong turn at Viet Q happened when I ordered clay pot catfish. Vietnam has a vast network of interior waterways, and the people are accustomed to the muddy flavors that freshwater fish often have. I am not so tolerant and only like catfish that's clean tasting. If you're like me, order the clay pot with pork or tofu (or both). I'm a sucker for wide, flat noodles, so it's no surprise that a plate of spicy lemongrass rice noodles stir-fried with tofu and vegetables won my heart completely. A big heap of fat noodles, dark with sauce, was packed with vegetables and chunks of dreamy Viet Q tofu, then garnished with a large piece of young cilantro. The restaurant's tinted windows shield you from the glaring sun outside. When you leave, the bright light can feel disorienting, like you've just left a matinee movie or woken up from a very nice dream about the other side of the world. Viet Q may not be a dive, but it will take your belly to a very good place.
Restaurant Review: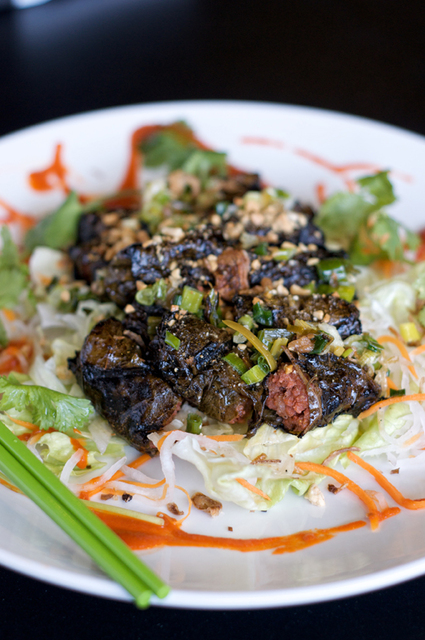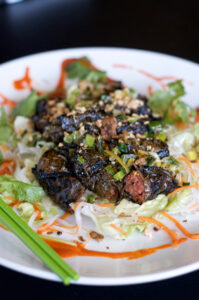 Sergio Salvador salvadorphoto.com
The
Alibi
Recommends:
Clay pot tofuSpicy lemongrass rice noodles with vegetables and tofuGrilled beef grape leaf appetizerDeep fried salt and pepper squidViet Q special noodle soup