Dear Neil Young fanboys and flannel-clad stalkers of all genders, have I got a book for you! If you've always been curious about the tragic family events preceding the singer-songwriter's wintertime entrance into this mortal coil, the day the infant Young first opened his eyes and what sort of chores young Neil 's military father assigned him—or you wanna read an in-depth account of Young's important first band, The Squires (from Winnipeg, eh)—check out Sharry Wilson's new completist biography of the man's early years. The book, titled
Young Neil: The Sugar Mountain Years
, explores the life of a rock legend as he grew up and learned about life and the music business. Set between 1945 and 1966, Wilson introduces details of experiences that transformed Neil Young into the formidable, irascible and introspective figure he would ultimately become. This book houses ephemera like a family tree, photos of chore charts and set lists as well as photos of Young and his family at work, at school and in repose with the accoutrements of Canadian life. There's plenty of fishing, chicken-ranching and guitar playing in this tome. The narrative is written in an unadorned style that makes for a leisurely read and reflects the uncomplicated authenticity of Young's legacy. With a multitude of historic sources at her disposal, the author has borne essential reading for heavy duty fans who want—nay, need—to know why it's so important to keep on rocking in the free world.
Young Neil: The Sugar Mountain Years
Sharry Wilson
ECW Press
biography softcover $18.95
Get Lit Herbie Hancock: Possibilities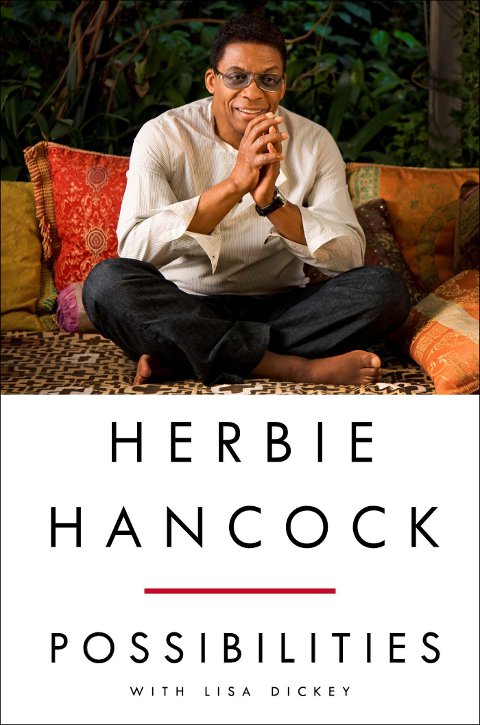 Herbie Hancock's new autobiographical memoir
Possibilities
reflects on the jazz man's wide-ranging work and influence. The book moves back and forth in time from Hancock's auspicious beginnings as a child prodigy through his work with various genre greats and subsequent experimentation with cocaine in the '90s; closing with his current exploration of social justice and electronica,
Possibilities
is an earnest self-portrait of one of this era's great musical minds.Hancock details experiences both triumphant and troubling. For example Chapter 6 documents the 1960s jazz scene with unusual vigor, including heady, bee-filled acid trips and romantic interludes set amidst the superlative, revolutionary gigs showcasing quartal harmonies that set Hancock apart from his peers in the Miles Davis Quintet.As the pianist relates his outré journey toward redemption, it becomes clear that spirituality and love have played overarching roles in his continued success and evolution. Sometimes residing in self-torment and uncertainty, Hancock has survived brightly while many other players wholly embraced self-destruction and an unraveling of skills and talent.During his final overview in the memoir, Hancock alludes to his longtime (read: 46 years) marriage to Gudrun Mexines and his ultimate embrace of Buddhist meditation. Over the years, he notes that he has not only learned how to play the piano but also how to live. This simple message has an eloquence that continues to have profound effects on the artist, his family and his audience.
Herbie Hancock: Possibilities
Herbie Hancock with Lisa Dickey
Viking/Penguin Books
autobiographyhardcover$29.95