Jazz music is what happens when the boundaries of space and time are displaced by an overarching sense of musical, tonal and rhythmic freedom. That may seem like a set of parameters that function best on an individual level, and hell, jazz music is full of the solos to prove such a contention.Yet, jazz composed for and performed by ensembles of different sizes remains one of the pinnacles of human artistic expression (besides college basketball's Final Four and local multi-genre experimentalists Death Convention Singers). If you haven't had a chance to test my previously uttered jazz theories, this coming week provides prime opportunities to explore this purely American musical triumph right here in the Duke City.Like many art forms, jazz is constantly evolving. This progression is particularly notable in the work of Andy Milne. Milne proceeds forward with his formidable group
Dapp Theory
at
Outpost Performance Space
(210 Yale SE) on Thursday, April 2. A pianist who's renowned for a lyrical, compositional and profoundly playful playing style, Milne brings this sensibility to an ensemble that includes spoken-word man John Moon, the funky but classically timbred saxophone studies of Aaron Kruziki and a polyrhythmic sense of order guided by drummer Kenny Grohowski and bassist Chris Tordini. In combination and collaboration, Dapp Theory wanders around and through Milne's subtly cyclic but outwardly tangential piano exploration—adding poetic gravitas and an abiding, albeit complex sense of order. The group's latest release
Forward in All Directions
includes languid post-bop lexographies like "In the Mirror, Darkly" as well soul-inflected sojourns like "Katharsis." Plus which, they claim to be influenced by Thelonious Monk and Van Halen, so you know they must be tight. Tickets cost between $15 and $20, and the recital commences at 7:30pm.
Jazzed: Tuesday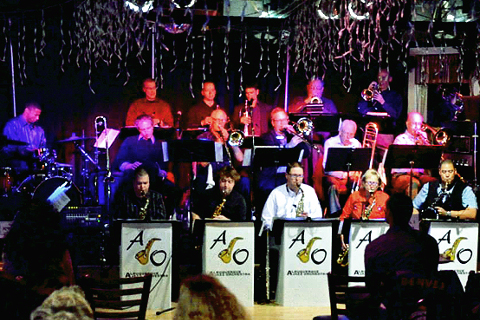 Courtesy of artist
As with other genres devised by
H. Sapiens
, there are also traditional methodologies and practices at work in the community. Sometimes-flinching self-references to postmodernism get attention and supposedly help one gain access to the avant-garde, but there are plenty of jazz people in Burque working competently without that marker. The
Albuquerque Jazz Orchestra
—traditionalists who are melodically masterful, instrumentally informed and great fun to dance to—have a gig on Tuesday, April 7, at
The Cooperage
(7220 Lomas NE). AJO features some fine talent in its current lineup. Trombonist Chris Buckholz is a recent addition to the UNM music faculty whose oeuvre includes solo jazz and classical recordings; and the dude's into early 20th century trombone literature, which becomes clear upon hearing his solos within ensembles. The keyboard player for AJO is Jim Ahrend, who had a 20-year, cool career as a club and touring pianist and is also the organist at Monte Vista Christian Church. The addition of legendary local axe-man Michael Anthony and the soulful stylings of saxophonist Lee Taylor makes AJO an essential sonic experience. This is a free show that begins at 7:30pm, but do recall that The Cooperage is a steak and seafood joint; savor surf and turf with a hearty side of jazz .Jazz music represents a spirit of freedom. Impossible to capture and difficult to find, hearing jazz is a reward for any listener's wondrous attention. As you head toward your inevitable jazz encounter, keep that in mind. Or muse on a cascading rainbow of notes—sour, sublime and sweet—that stretches on into infinity.