Burque is known for bringing artists, musicians, poets and other visionaries together in alternative spaces; places like Spirit Abuse and The Tannex come to mind when considering recent manifestations of intersecting discourse communities. Now
Tortuga
(901 Edith SE), a gallery in the South Broadway neighborhood, joins this fruitful social intercourse, bringing new electronic and dark-wave folk music to the fore on Friday, Aug. 15, at 7pm. Brooklynite
Sondra Sun-Odeon
of Silver Summit leads an evening expedition to ethereal experimentalism, dark dreams and innovative improvisation alongside fellow travelers
Jasmine Dreame Wagner
, native son
AJ Woods
and Santa Fean
Grove of Baal
. Sun-Odeon's work with Silver Summit conjures dark folk, doom-inflected metal and exotic instrumentation; her voice haunts this melancholic muse in the manner of a lost angel. This set of aesthetic propensities are complimented by Wagner's ghostly, jazz-infused compositions. Guitarist/songwriter Woods can transform six-string instruments into vibrating objects of mystery and imagination. Ben Tempchin (vocals, guitar) and Aaron Jenks (keyboards) are the dusky spirits behind opener Grove of Baal, and they deliver aural phenomena that veers from randomly disturbing to precisely sublime. Entry into this supersonic séance costs $7.
Music To Your Ears Southwestern Folk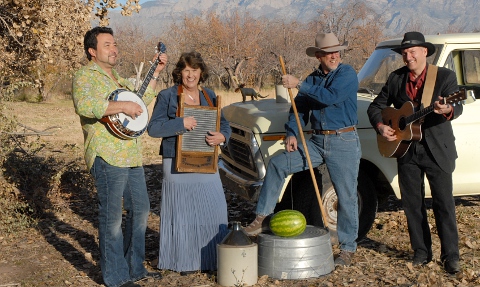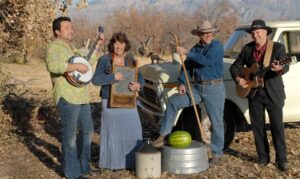 Courtesy of artist
Sometimes the folk music of North America gets a bad rap, especially as more folky folks jump on the horse-drawn bandwagon in search of cultural identity and lucrative gigs at hipster joints from coast to coast. The thing is, people have been successfully and authentically making with the accoutrements of this genre for generations.
Watermelon Mountain Jug Band
is a lot like that. They bring their show, complete with banjo, washtub bass and the rare kazoo, to the
Old Town Gazebo
(303 Romero NW) as part of the Summertime in Old Town concert series. They perform on Sunday, Aug. 17, at 2pm in the afternoon. Hewing to the traditional with nothing but killer chops and a vision of native musicality to keep on keeping on, the Jug Band incorporates country, bluegrass and ragtime in their astonishingly fresh take on Americana. The group has been playing together for nearly 40 years and includes bass-master Gary Oleson, New Mexican banjo champion Ben Perea and multi-instrumentalists Pat Houlihan and Barbara Piper. (Hey, someone's gotta deftly handle the washboard, kazoo and jaw harp.) This mirthful journey from whence we came is totally free.
Music To Your Ears All Bad, Nationwide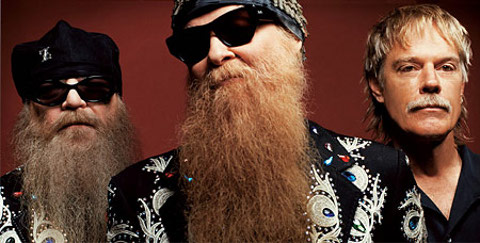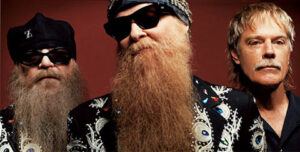 Courtesy of artist
So
Jeff Beck
and
ZZ Top
are gonna stop by
Sandia Casino Ampitheater
(30 Rainbow Rd.) on Tuesday, Aug. 19, at 7pm to break guitar strings, destroy drumsticks and do damage to at least a few thousand eardrums. Here's hoping the Top sticks to older selections from its notoriously lengthy catalog; it would be hellacious to hear tunes from
Tres Hombres
or
Dugüello
up close and personal,
sabes
? On the other hand, hearing the hits would be decent, too, as long as we get to visit "La Grange" while skipping merrily through "Sharp Dressed Man" and "Tube Snake Boogie." Plus, two of these fellows' beards put to shame anything worn by hipsters today. Seeing those ultra-hairy accessories shimmy and shake to the mighty sounds of Texan freedom must be worth the price of admission on its own merit. Even better, this show also features one of the greatest rock guitarists of all time, Jeff Beck, a dude who's been rightly compared with the likes of Jimmy Page and Eric Clapton. Beck's played with 'em all, from Nicky Hopkins to Morrissey, lending his style and influence to everything he touches … from deep blues to purple pop. Tickets for this monolithic meetup range from $55 to $82. "Just let me know if you wanna go."