"Late night drives and hot French fries and friends around the country/ From Charlottesville to good old Santa Fe/ When I think of you, you still got on that hat that says let's party/ I hope that thing is never thrown away/ I hope that life without a chaperone is what you thought it'd be/ I hope your brother's El Camino runs forever/ I hope the world sees the same person that you've always been to me/ And may all your favorite bands stay together"—
"All Your Favorite Bands,"
the title track on the new album by
Dawes
Beyond the veil of sentimentality, there's a place we all wish upon. Whether in the company of absent friends, cruising around town in that first bitchin' ride or partying like that's the main mission in life, visions of the past sometimes steer our future. Who among us wouldn't like to gambol gracefully over to the local record store
today
and pick up a new record by Nirvana or The Doors? Reason and experience say it can't be done. But even as our dreams continue to draw us back to the night of what was, tomorrow beckons. And today happens to be a good day. So sleepers awaken, drink some coffee, read this writ. It's about what's happening now.
Show Up! Friday
Chuck Hawley
's been an integral part of the local music scene for at least 30 years. Hell, I remember listening to his gigs with electro-wiz Rodger Venue at UNM's storied Subway Station (Sonic Youth and the Ramones played there too) when I was fresh outta high school. Hawley went on to form Splinter Fish, Saha World Telegraph, Mucho Buddha and numerous other significant music projects as the years passed. He's always been a totally diggable guitarist and plays with his new project, the
Chuck Hawley Group
, at the historic
Old Town Gazebo
(303 Romero NW) on Friday, July 24. Hawley's prowess on stringed instruments is breathtaking and fresh, combining country-fied conceits, rocked-out realism and intricate fretwork. This free, all-ages gig is a perfect opportunity to hear how the perfect past becomes the powerful present. Hawley and company begin their tuneful discourse at 7pm.
Show Up! Saturday
Hotter than hell City of Angels jazz pianist and composer
John Proulx
gigs at the
Albuquerque Museum of Art and History
(2000 Mountain NW) on Saturday, July 25. The dude will be sharing the bill with local jazzbos
Le Chat Lunatique
, an ensemble noted for a distinctly dirty take on the art form that combines the zest of Zappa with the righteousness of Reinhardt. Proulx is something else; his style is contemplative and fluidic, bound to an authentically loungy vocal style that nods at nostalgia while leaping luxuriously into a now that has listeners whispering wow. A Grammy Award-winning musician who's worked with everyone from superstars like Natalie Cole to super-ascendant Burque vocalist Emerson Susan Corley, Proulx' interpretations of standards as well as his deft touch on original compositions are distinct for their timeless nuance. Sponsored by the New Mexico Jazz Workshop, this concert gets underway at 7pm. Admission ranges from $14 to $16.
Show Up! Sunday
While busy envisioning how what came before continuously transforms into what comes next, swing gracefully and dance-like into the category-defying work of
Dos Santos Anti-Beat Orquesta
. The Chicago-based band has a show with New Mexican notables
Nosotros
on Sunday, July 26. Together, they'll bring the jam to town at the fountain courtyard of the
National Hispanic Cultural Center
(1701 Fourth Street SW). It's for a concert designed to demonstrate why the influence of Latin-American musical traditions can create sonic pleasures both wizened and wickedly rhythmic. Using the cumbia as a steadfast stepping stone into musical excursions that happily incorporate the glorious past of '70s, south of the border sonics with postmodern punk and other presently precious genres, this quintet of musicians and social activists paint their tuneage with a broad brush that touches on critical cultural experiences as well as jumping jive. Meanwhile, Nosotros has a 20-year history of making melodic masterpieces marked by nuevo mexicano aesthetics. All ages are welcome at this performance. Twelve bucks gets you through the gates and onto the grounds of something spectacular. Showtime is 7pm.
Show Up! Monday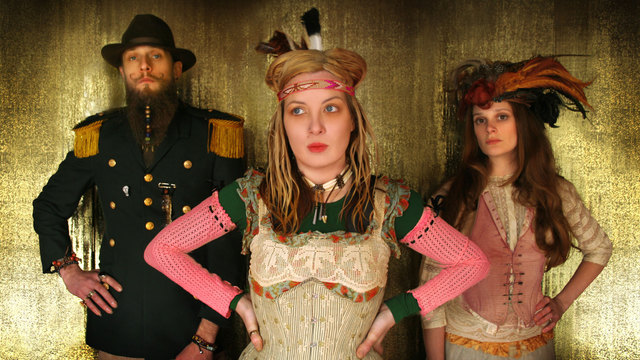 Courtesy of the Artist
Sometime in the days of yore, music critics were clear in their conclusions about the cello. The cello had the same range and propensity for emotional expression as the human voice, they said. But why trust the dim memories of the dead when you hear all about that now. On Monday, July 27,
Launchpad
(618 Central SW) welcomes
Melora Creager
's amazing conglomeration of old and new coming together brightly and brilliantly as
Rasputina
. Fashioned from Victorian-era fashions, allegorical allusions and an essential and vibrant sense of rocanrol that swims through the air on stringed orchestral instruments, Rasputina is an evocative evolution of structures and storm-like serenades. While Creager's work is rooted in a bygone age, her presentation and execution are unforgettably up to date; she was the cellist on Nirvana's last tour, and her current work on the recording
Unknown
(reviewed by
Alibi
record expert Geoffrey Plant in issue 29) draws on recent happenings that make these days seem intimate yet chaotically fascinating. Creager and cohorts Luis Mojica and Carpella Parvo will magically appear at 9 at night. Haunted hipster-pianist
Daniel Knox
opens. The doors to Launchpad open at 8pm; one may enter after presenting the doorman with a mere 15 dollars.
Show Up! Tuesday
Finally, put that ol' hat upon your head, the one that says "party on", and visit
Isleta Amphitheater
(5601 University SE) on Tuesday, July 28, for this city's iteration of the Boys of Zummer Tour featuring
Fall Out Boy
,
Wiz Khalifa
and
Hoodie Allen
. Practically guaranteed to make anyone over the age of 30 feel ancient, this youthful exploration of plastic pop-punk and consumer-crazed hip-hop will make sense to listeners willing to abandon the entire history of American popular music in favor of embracing a beautifully formless alternative future where sugary hooks and hedonistic, cannabis-laced declarations of freedom predominate. In all fairness,
Blacc Hollywood
is decent stuff, and
From Under the Cork Tree
has at least two memorable songs contained within. Admission prices begin at $37, but a VIP box will cost you like hundreds of Washingtons. It's an all-ages dealio, and the music or a semblance thereof begins at 7pm.
Show Up!
Well, as the Bard noted through one of his more nefarious characters, what's done can't be undone. With that in mind, I really do hope your favorite band never breaks up. But if they do, there's probably enough action around town to keep you pleasantly occupied until the tow truck comes for your kin's cherished El Camino, which should be anytime now.