"I jumped in the river, and what did I see?/ black-eyed angels swimming with me/ a moon full of stars and astral cars/ all the figures I used to see/ all my lovers were there with me/ all my past and futures/ and we all went to heaven in a little rowboat/ there was nothing to fear and nothing to doubt"—
"Pyramid Song"
by
Radiohead
from the album
Amnesiac
Field notes for Show Up, issue 29, July 2015: Don't recommend jumping in the river around here. The moon will wax from new to crescent during the week this article sees publication. I think I saw some black-eyed angels at Beyond Ordinary back in the day, but lately, the scene's been bereft of them. Listening to live music can be heavenly, even without a rowboat. If that's too tangential, ask readers to check out this week's beguiling and boundary-busting set of concert previews. Use exciting language to draw them out—past fear and doubt—into the musical world manifesting all around town.
Show Up! Thursday
The New Mexico Jazz Festival is totally kicking ass this year. Daringly eclectic programming choices have resulted in a series full of fruition. Santa Fe jazzman
John Trentacosta
adds to this ripening sense of completion when he performs at
Outpost Performance Space
(210 Yale SE) on Thursday, July 16. Trentacosta is properly a percussionist but is also well-known as an agent provocateur—stirring things up as a ceaseless promoter of the scene, sought-after session man and erudite jazz DJ. He'll be joined on stage by some of his most excellent collaborators, including vocalist Giacomo Gates, flutist Ali Ryerson, trumpeter Michael Morreale, reedman Arlen Asher, pianist Bob Fox and bassist Earl Sauls. Expect shuffling, swirling post-bop sensibilities imbued with cool formalism and provocative solos. Here, the jazz music is meant for all ages, can be experienced for $25 to $30, and happens at 8pm.
Show Up! Friday
Singer-songwriter
Bonnie Bluhm
is for real, yo. She got into music using a classic pathway—gigging in Greenwich Village during the folk's ascent in the early sixties. Moving out west Bluhm brought her signature strumming and sonorous singing into the local community. From outta Placitas and Burque, she formed Bonnie and the Boomerangs, one of our region's storied and seminal country-rock outfits.
Crazy Moon
, the band's 1987 Ubik Records release, is still
the
primer for anyone in these parts making Americana. Ms. Bloom will celebrate the release of her new solo recording,
Rio Grande
, at
Tortuga Gallery
(901 Edith SE) on Friday, July 17. Engineered by music mastermind Manny Rettinger, the new work focuses on Bluhm's soulful, guitar-driven narratives. Fellow Boomerang (and brother) Terry Bluhm will sit in, handling the bass. Humans of all ages are encouraged to participate, and modest donations will be extracted at the door. The concert begins at 7pm.
Show Up! Saturday
There will be Dutch-derived deep house in stereo at
Stereo Bar
(622 Central SW). This will be especially true on Saturday, July 18, when
The Scumfrog
drops some deadly beats on the joint. Jesse Houk (his given name) does his thing by way of the remix. By sublimely destroying and then reconstituting the work of artists ranging from Britney Spears to J-popster Hikaru Utada, Houk plays god with pop music, sometimes creating new electronic demons in the process. Often psychedelic in their manifestations, his grooves are unusually hot and melty with elements of tech and trance augmenting his stunning execution. An instrumentalist as well as a DJ, The Scumfrog is also a frenetic percussionist whose original compositions include collaborations with Sting and Bowie. Admission requirements for this futuristic, electronic hoedown include 21+ age verification; also it's free to get in if you join
the associated Facebook event
. Meet both prerequisites and start getting down at 9pm that night.
Show Up! Sunday
The Melvins! That's right, readers, the goddamn
Melvins
—a big old band from the northern forest whose story and songs you all are no doubt familiar with— jam out with rotten precision on Sunday, July 19, at
Launchpad
(618 Central SW). Timelessly sludgy and fortified with punk rock panache more startling than King Buzzo's latest hairdo, this group of OG gentlemen make it happen with a droning sonic venom that overpowers even as it entrances. Guitarist Buzz Osborne and drummer Dale Crover form the delectably burnt heart of the ensemble. Jeff Pinkus, formerly of some Texas tunesters known as Butthole Surfers, plays the bass. Mexican punk rock power trio
Le Butcherettes
—Teri Gender Bender, Jamie Aaron Aux and Chris Common—open the proverbial caustic can o' worms at your favorite spaceship-themed venue that evening. Of course you have to be 21 or older to get in; it's the goddamn Melvins for crissakes. That and you'll need 17 simoleons for a ticket. Doors are at 7pm and blastoff at 8pm.
Show Up! Tuesday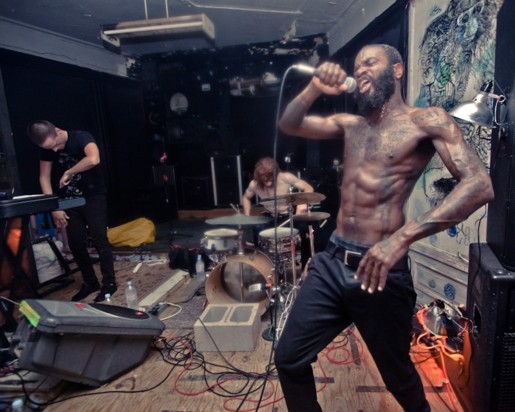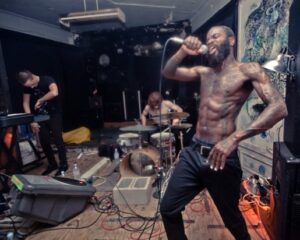 Courtesy of the Artist
As you know,
Death Grips
are some intense shit. If previous experiential suggestions weren't enough to warm one's tattered soul, invoking dreams of former lovers and spaced-out cars, then proceed to our next destination,
Sunshine Theater
(120 Central SW), on Tuesday, July 21. Once there, you may have a close encounter with noisome, experimentally fragrant and industrially produced hip-hop maestros MC Ride, Zach Hill and Andy Morin. Studied improvisers who leak powerful acidic substances onto their instruments, consoles and surrounding audience, Death Grips' heavy flow makes the work of Radiohead sound like happy-time party music. Fearlessly unconventional in their approach to the genre they currently inhabit, current work
The Powers That B
is a double album consisting of ultra-cray
Niggas on the Moon
as well as a newer project titled
Jenny Death
. The opening track of the second disc, "I Break Mirrors with My Face in the United States," has the power to reconfigure neural pathways all over the planet. At 17 bucks a pop, this 13+ adventure to an alternate timeline in hip-hop nation gets underway at 8pm.
Show Up!
Admittedly, it's difficult to find a Thom Yorke tune that's descriptive of
joie de vivre
. "Pyramid Song" is about as close as it gets, as long as the listener, like the narrator, is willing to conflate release with happiness. And with a swaying, composite time signature that's as mesmerizing as it is distracting, you're probably better off saving a listen to it until after you get back from one of the shows mentioned above. That way, at least you'll have something substantial to compare to the song's washed-out sound and sentiments. Oh, by the way, if you run into any black-eyed angels whilst out and about, tell them I said hello.